Meizu has just launched the Meizu Pro 7 with dual screen and dual rear cameras in India but the Chinese manufacturer is going to leave no stone unturned as it celebrates its 15 years of prominence in the business with the release of its upcoming Meizu 15 and 15 Plus which just popped up online.
The leak comes in disguise of hands-on images that popped up online revealing the Meizu 15 and 15 Plus in some if not all of its glory. On the image with the two phones, it's clearly obvious which of them is the oversized Meizu 15 Plus, though apart from the size, there aren't any surprising differences.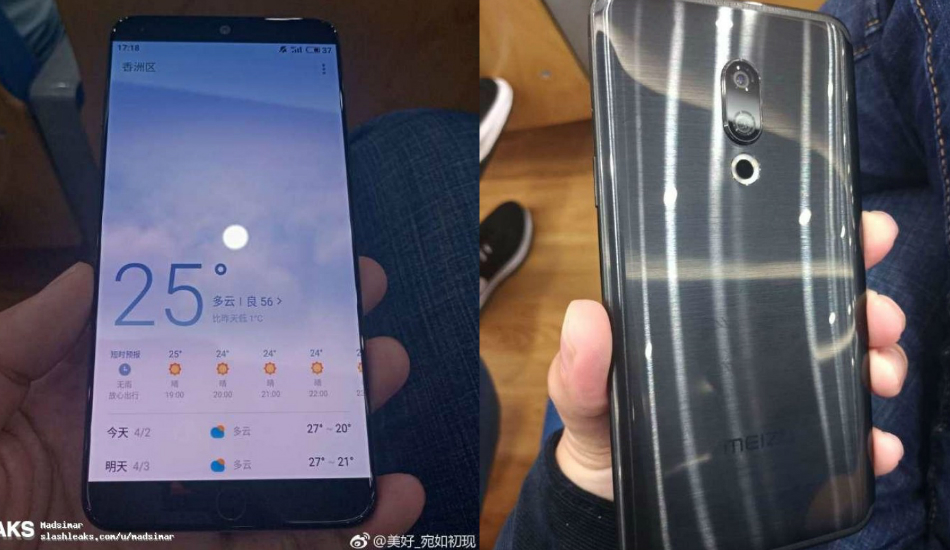 Both Meizu 15 and 15 Plus make use of a centre-mounted front-facing camera and it's good to note that the company isn't looking to push the dreaded notch on the top. Pictures indicate that there is also a significant bezel on the bottom, thanks to a rounded Home button that also doubles up as the fingerprint sensor. The Meizu 15 lineup is housed on an all-metal case that also packs the dual rear cameras, aligned vertically alongside a ring-shaped LED flash at the back.
If rumours in the past are anything to be believed, the Meizu 15 Plus will feature a 5.95-inch QuadHD display and will be powered by a Samsung Exynos 8895 SoC with 4GB/6GB RAM and 64GB/128GB storage options.There appears to be a 20-megapixel front-facing snapper with a dual 20MP+12MP camera setup at the back, all of which is juiced up by a 3,430mAh battery.
The standard Meizu 15, on the other hand, is expected pack a smaller 5.46-inch FHD display with an even smaller 2940mAh battery to back it up with. Surprisingly, the less expensive Meizu 15 will be powered by a Qualcomm Snapdragon 660 processor but with similar configurations to the 15 Plus.