Mediatek has announced what it calls the world's first true octa-core processor as all its eight cores can work simultaneously. However, Mediatek has not mentioned the model number of the chipset; nor has it revealed the architecture used in it. However, it is expected that the chipset comes with ARM A7 based architecture and is not like the Samsung Exynos 5 chipset, which is based on ARM's big.LITTLE architecture and has four Cortex A7 cores and four Cortex A15 cores.



In Samsung's octa core solution, there are two sets of quad core processors as mentioned above, but only one set works at any given time. When high performance is needed, the A15 based quad core set works; while during lean jobs the A7 based quad core can manage.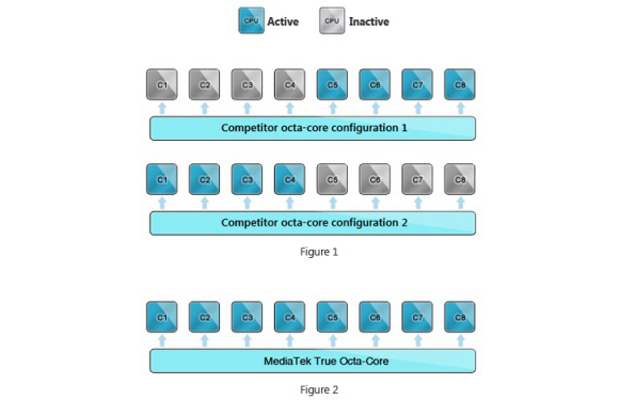 Mediatek has stated that the chipset registers clockspeeds which range from 1.7 GHz to 2 GHz. The chipset will also be able to decode high resolution 1080p videos at 30 fps. And according to reports, it manages a score of 30,000 on the Antutu benchmark, which is second only to Qualcomm Snapdragon 800's 35,000.
The chipset supports Mediatek-developed four-in-one connectivity combination that includes WiFi, Bluetooth 4.0, GPS and FM, and it also supports WiFi certified Miracast. It has PowerVR series 6 GPU from Imagination Technology. This chipset is likely to be called the MT6592, and will get eight A7 cores clocked at 2 GHz each.