Valentine's Day is approaching and it's high time the geeks showed their special lady that they really care, or they'll have to face the music. And if you don't believe in Valentine's Day, here are some apps that help you express that too:
Animated Love Stinks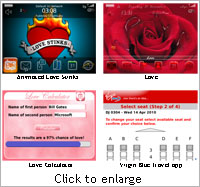 First, a BlackBerry App for those who are completely against the idea of love and Valentine's Day. Animated Love Stinks will make you realize that hating Valentine's Day is no inexpensive affair. It costs $5.99 (Rs 270).
Love
The second BlackBerry app on our list is Love. Love is a theme based app with a rose background to give a Valentine touch to your otherwise out and out business device. Love app from the BlackBerry App Store costs $1.99 (about Rs 90).
Love Calculator
If you thought love is just an emotion and cannot be calculated, there is at least one app that contradicts you. Users just need to enter the names of two people and the app does the rest. It calculates the possibility of love happening between them. Love Calculator for BlackBerry costs $0.99 (Rs 45).
Virgin Blue Travel app
If your amour loves the outdoors, the Virgin Blue Travel app may help you out this Valentine's Day. Another scenario in which this app may help is when your love lives elsewhere and you need to fly so you are with her for that very romantic dinner. Virgin Blue Travel app is available free for download.
Poynt
Need to book the right restaurant for a dinner with your love? Poynt can help you with it so you have the right restaurant tables and movie tickets booked in time.