LG will launch its first touch and type input based Android smartphone, the Optimus Pro, in India in August, an Indian spokesperson for the company told 'The Mobile Indian'.
The LG India spokesperson also refuted media reports which said that Optimus Pro will replace the LG Optimus One.
Optimus Pro is an Android Gingerbread based dual input (touch and type) device featuring a 2.8 inch capacitive touchscreen, full Qwerty keypad, and WiFi, HSPA and Bluetooth version 3.0 connectivity.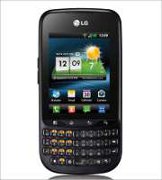 The Pro will feature a slightly underpowered 800 MHz processor with a dedicated graphic core in the form of Qualcomm MSM 7227 system on a chip, which should take care of users' daily computing requirements.
LG would probably launch this device below Rs 13,000 making it affordable for many users looking at an affordable and smart mobility option.
As pointed out by the LG spokesperson, the company plans to launch quite a few devices in the month of August and along with Optimus Pro, it also plans to launch the Optimus 3D in India.
So, will the Optimus 3D be launched alongside Optimus Pro or separately remains to be seen this August.