Lenovo announced the Lenovo Z5 smartphone earlier this year which failed to live up to the hype that the company had generated through its deceiving market tactics. The Chinese company is now gearing up for the release of its successor which is to be aptly named the Z5 Pro.
During Lenovo's Tech World 2018 event in China, Lenovo VP Liu Jun revealed the Lenovo Z5 Pro while the full unveiling has been scheduled for October 1. From what we can grasp from the images, the Z5 Pro could be a step toward the future for the company as it brings a bezel-less screen that doesn't seem to equip a notch at the top.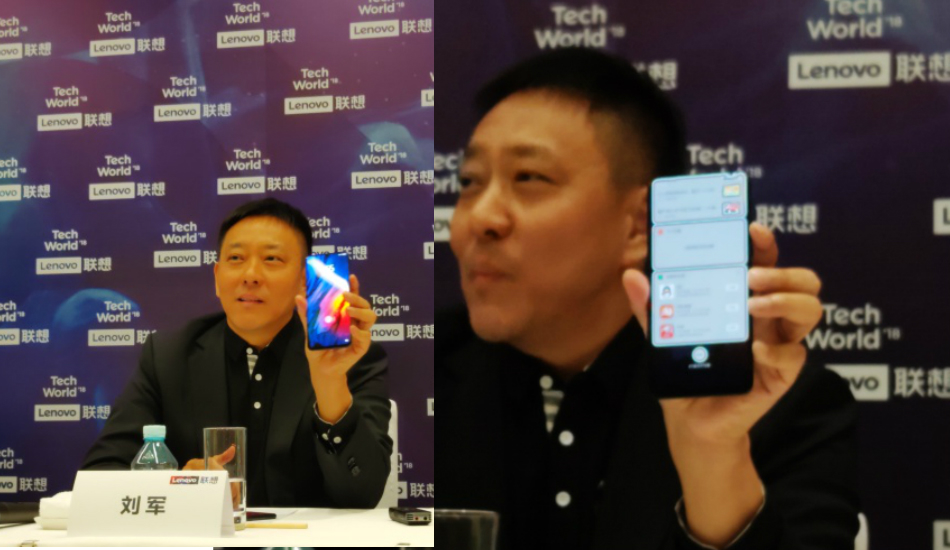 The upcoming device could possible also come with an in-display fingerprint scanner which can be implied from the circular white spot on the bottom part of the display, which was shown during Lenovo's press conference. With a display that big and no noticeable notch, the question arises where Lenovo will integrate the front-facing camera. Having already seen the likes of Vivo and Oppo using sliding units to avoid leaving space on the front, there's a high chance we'll see a similar technology on the Lenovo Z5 Pro.
Earlier, the Z5 Pro was allegedly spotted with a slider mechanism just like the one on the Oppo Find X in a 12-second long video. The only difference was the manual ability to slide a mechanical part of the device.