Here is yet another powerful smartphone from Karbonn – the Smart A111 – which is challenging the popular Micromax Canvas II A110. Available for just couple of hundreds more than Rs 10,000, the Karbonn Smart A111 has rich specification. Let's see how the two phones stand with respect to each other.
Display:
Both the handsets have 5 inch touchscreen with multi touch capability. The exact resolution of the display of Smart A111 has not been revealed yet but it is expected to be the same as Canvas II's 854 x 480 pixels which is common in most mobile phones in this price range.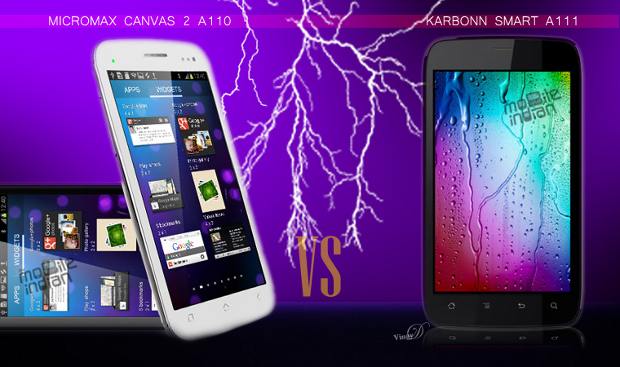 The Canvas II has an IPS panel so it offers good viewing angle but that cannot be said for sure in the case of Karbonn Smart A111 due to lack of information at this point of time.
Camera:
The Micromax Canvas II has two cameras including an 8 megapixel rear camera and a 0.3 megapixel front unit. On the other hand, the Karbonn Smart A11 has a 5 megapixel rear camera and a 0.3 megapixel front unit for video chats.
Figure wise, the Canvas II seems winning but the 8 megapixel camera of the Micromax handset does not exactly performs as per the specification and seems much like that of a 5 megapixel unit. We do not know the performance of Smart A111's camera but we expect it to behave like a proper 5 megapixel camera.
The Canvas II has also the advantage of having dual LED's compared to the single LED flash in the Karbonn smartphone.
Battery:
The 2000 mAh battery in Micromax Canvas II said to give a five hours of talktime over 2G network and 180 hours of standby time. The Smart A111 has a slightly better 2100 mAh battery but we do not expect any significant output from this battery as comparison to that of Micromax Canvas II.
Memory:
The Smart A111 scores in this section as it has 4 GB internal memory along with 32 expandable storage slot. In comparison, the Micromax Canvas II has only 2 GB internal memory capacity but has 32 GB of expandable memory option. The internal memory is crucial as apps stored internal memory performs better.
Performance:
Both the handsets come with 512 MB of RAM as well as dual core processor that too on Qualcomm's chipset. But the Karbonn Smart A111's processor has a clock speed of 1.2 GHz. It could be possible that Karbonn has overclocked a 1 GHz processor to 1.2 GHz. As far as Canvas II's performance is concerned, we had pointed out in our review as well that the phone is capable of running mildly intensive games like Temple Run and Angry Birds.
But since Karbonn Smart A111 too comes with 512 MB of RAM, you should not expect miracles from it.
Conclusion:
Many of you may not have much option at this point of time as the Canvas II seems just vanished from the market, as we pointed in our earlier story (Is Micromax's Canvas II dead) too.
But the other hand, it does not seem a very prudent decision on the part of Karbonn as well as it has launched a handset with exact specification against a popular handset that too at similar price point. Not only that Karbonn has also announced a quad core smartphone – the Smart Titanium – that too for Rs 10,990.