Karbonn Mobiles, one of the Indian handset brand, has launched four feature phones in the price bracket of Rs 2,900 to 4,500 and are full touch phones with screen size between 2.8 inch and 3.5 inch.
Shashin Devsare, Executive Director, Karbonn Mobiles says, "We, after a strong market research, realized that a huge demand and supply gap exists in the smart feature phone category. There are very few options available, and that too at very high prices and the market is in great need of good multimedia feature phones at reasonable prices. So we decided to come up with a range of smart feature phones with interesting applications and amazing features."
The costliest among them is, K 1616. It features a large (by feature phone standards) 3.5 inch HVGA (480×320) capacitive touch screen. Other features include a 3D User interface, G-Sensor (which aligns the screen in portrait and horizontal modes depending on how you hold your phone, proximity sensor, a 3.2 MP camera, it comes with EDGE support (slower than 3G but faster than GPRS). Also, Karbonn has introduced a new Application store, K Zone, which is also available on this phone. The phone is priced at Rs. 4599.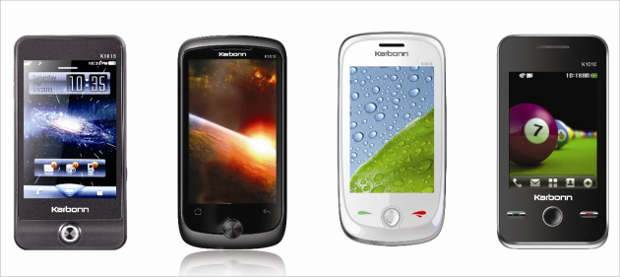 The second phone is the K 1818, which comes with a 3.2 inch WQVGA (432×240) screen, it has similar 3D user interface like the K1616, other features of the phone are similar to K 1616, the memory is expandable to 8 GB. The phone is priced at Rs. 3699.
K1515 which is next in line feature the same screen size as K1818, with better resolution but lower feature list, including a smaller 2 MP camera and GPRS support only (K1818 supports EDGE).
Other features include FM Radio with recording, 8 GB expandable memory and multi-language support (Hindi, Tamil, Telugu, Marathi, Kannada and Bengali), the phone is priced slightly higher at Rs. 3799, due to a better screen.
The cheapest in the list of new phones is the 2.8 inch screen totting K1010, and features a smaller 1.3 MP Camera, 8GB expandable memory, GPRS for web browsing, schedule FM recording and phone backup. However there is no support for K Zone apps, and in line with its low end features its priced lower at Rs 2899.