Korea-based giant, Samsung Electronic which has been rulingthe Indian smartphone and features phones categories for several years had a tough lastquarter. It lost the pole positionto Xiaomi in Smartphone category and to Jio Phone in feature phone segment in the just-ended quarteras per the research report of Counterpoint.
As per the report, in the feature phone segment, Jio's feature phone market share in India was at 26 percent in Q4 2017 and on the other hand, Samsung was able to capture only 15 percent share in the same period. They were followed by Micromax,Itel, Nokia HMD and others, with 9 percent, 7 percent, 6 percent and 37 percent share respectively.
Moving to the smartphone category, in Q4 2017 Xiaomi with 25 percent relegated Samsung to the second spot as it was able to garner just 23 percent market share. Lenovo, Oppo and Vivo followedthem with 6 percent share.
Counterpoint said in its report that India's overall mobile phone shipments grew by 37 percent in Q4 2017 as compared Q4 2016.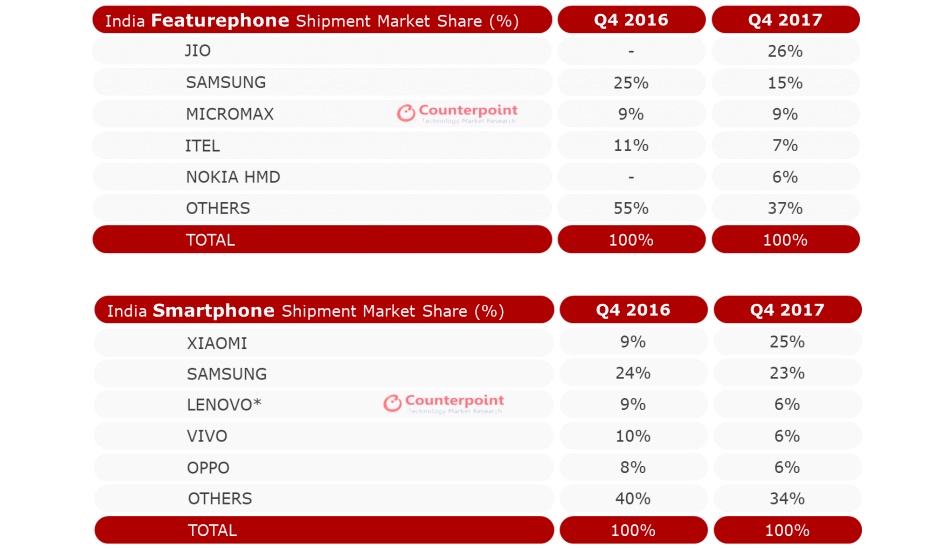 You Might Also Like
With this data, it can be seen that the competitive market has changed significantly in the last year, with the rise of brands such as Xiaomi, OPPO, VIVO in the smartphone segment and players such as Reliance Jio and Nokia HMD in the feature phone segment by delivering high-quality devices at the affordable prices.