German Fashion Designer, Jil Sander will team up with LG to launch a new Windows Phone 7.5 smartphone with custom user interface and custom accessories. Microsoft reported the same at its official blog but surprisingly the company has not allowed any custom skinning of the Windows Phone 7.5 so far. The Jil Sander Windows Phone 7.5 smartphone will initially available in Germany, Austria, France, Italy and UK. There is no word yet on its availability in India.
Sander has custom designed the smartphone and LG has offered its engineering expertise. This smartphone will come with custom blue colour bearing theme and custom icons designed by Jil Sander. Besides that, the Jil Sander Shopping app that offers deals, link to Jil Sander boutiques and connect with other Jil Sander fans will come preloaded on the phone.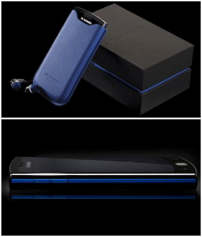 In the Jil Sander smarphone, LG has added 1 GHz mobile processor, 16 GB on-board storage, a 5 megapixel camera, and quad-band HSPA+ GSM network. Besides the handset, Jil Sander will also design custom accessories for the smartphone.
In past, the first version of Windows Phone 7 did not allow any custom user interface tweaking or skinning by the smartphone manufacturers. But with the Windows Phone 7.5 Mango update, the things appear bit differently. While this special limited edition smartphone will have custom user interface but not so heavy that it changes the basic user experience of Windows Phone. Soon we shall get to see number of Windows Phone devices from HTC, Samsung and others with respective custom user interfaces.