Several iPhone users have complained about a new autocorrect bug that is changing the word "it" to "I.T" on iOS 11 and later. Other users are complaining that the word "is" is autocorrected to "I.S".
Whenever the affected users type the word it into the text field, it shows "I.T" in the QuickType suggestion and when they tap the space key, the word automatically changes without tapping the predictive suggestion, reports MacRumors.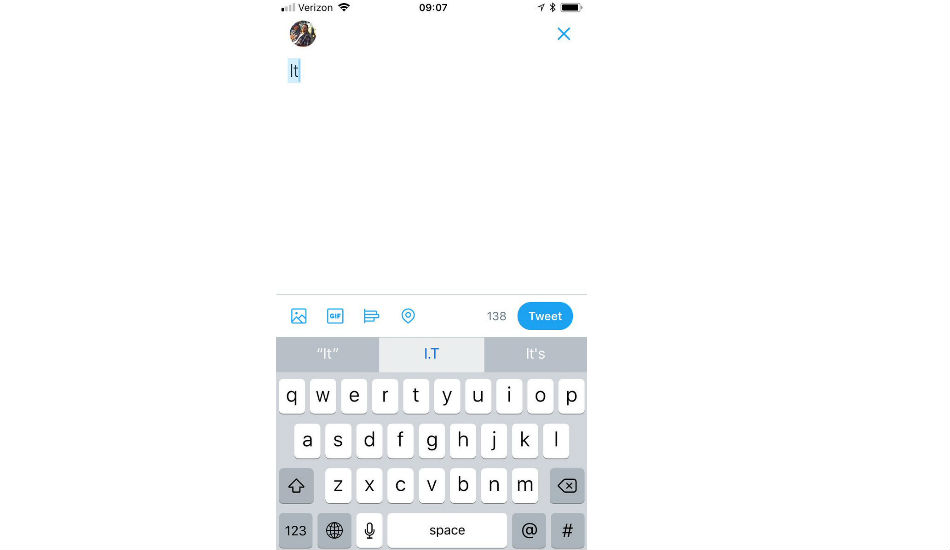 Image Courtesy: Sean James via Twitter
The report further highlights that the autocorrect bug persists even after a user reboots the device. If you are the affected users than you can go to Settings > General > Keyboard > Text Replacement. Tap the '+' icon present on the upper right screen and then type the word "it" into both the Phrase and Shortcut fields. Similarly, follow the same steps for adding the word "is". However, if the fix doesn't work for you, then you can simply turn off the autocorrect feature as well. Apple is yet to acknowledge the issue.
Previously, Apple released a new iOS 11.1.2 update that brings some bug fixes to the iPhone and iPad lineup. The latest update will fix the iPhone X issue that some users reported earlier. The latest update will fix the screen unresponsiveness in cold weather. The update is about 52MB in sizes and it is already available via OTA. The update also addresses an issue that causes some distortion in Live Photos and videos captured with iPhone X.
You might also like this:
To recall, Apple also confirmed that some iPhone X may become unresponsive in cold weather. Reddit user YamadaPuckah first reported the problem. He said that he has been experiencing the problem in the -2 to 5 degrees Celsius temperature there. Another Reddit users said that they experienced the problem after stepping outside in normal weather conditions so it might not just be due to the cold weather, reported the Forbes.