A mobile phone with built in projector, called V Show, has been launched by Intex Technologies, a domestic mobile handset company.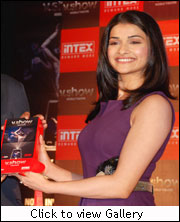 V Show costs Rs 12,000 and will be available starting December 1 in Intex and other multi brand retail outlets.
Ramesh A Vaswani, executive vice chairman of Intex Technologies, said, "I am confident that Intex V Show can change the way people watch movies, videos, picture galleries and even read e books on their mobile phones."
He added, "We expect to sell about 75,000 units of this handset by March 2011 and aim to capture five to ten per cent of the Indian handset market by the end of the current financial year."
Sharing the company's strategy, Vinayak Kumar Lal, the general manager of marketing at Intex Technologies, said, "The launch of V Show is one more attempt to consciously demonstrate that our mobiles can do more than just voice and message."
The handset enables the user to project movies and still images which are either stored in the phone's memory, or are streamed from the internet.
However, the mobile phone can't project images from a computer's memory. This means that content that is in a computer's memory will have to first be transferred to the phone's memory before it can be projected. The phone's screen remains active even while it is projecting images, and it has a clarity modifier to adjust the quality of projected images.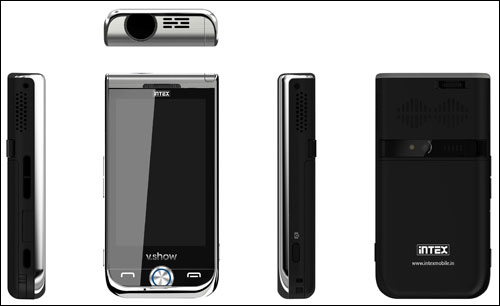 This handset is capable of projecting a 61 inch image from a maximum distance of 12 feet with 10 lumens of brightness and at QWVGA resolution. The contrast ratio that the projector offers is fine if the room in which projections are being made is dark; images projected in a well lit room aren't very clear. The phone comes bundled with a tripod so that it doesn't have to be held up while it is being used as a projector.
The phone has two cameras – a high resolution camera at the back for taking good quality pictures and a low resolution camera on the front for video conferencing. V Show has a touchscreen and uses two SIM cards. It has two memory card slots using which its internal memory of 64 MB can be expanded to 16 GB. The phone uses a battery that supports three hours of image projection.
V Show can access push mail. It has an LED flash light and can record video at 25 frames per second.
The company claims that the lamp of the projector lasts for more than 20,000 hours of projecting time. This is far longer than the life of a standard projecting bulb at a comparable price. Debu K Dasgupta, head of the centre for design and development at Intex Technologies, said, "The lamp is based on LED technology. This improves the lamp's life." He added that LED is a more energy efficient alternative to traditional technologies.
The phone uses Bolt web browser, which enables faster browsing speeds, tabbed browsing and has built in apps for Facebook and Twitter.