Intex, an Indian mobile handset maker, has launched five phones priced between Rs 1,490 to Rs 2,640.
The handsets are INTEX V.DO Slim, INTEX V.DO Magic, INTEX V.DO Sonic, INTEX IN 2040 N, and INTEX V.DO Nano Plus.
All the handsets are Dual SIMs (GSM +GSM) with video and audio playability and compatibility with all major formats such as AVI, MP4, and 3GP.
According to Intex, the handsets have low permissible radiation absorption rates (SAR, hence have a lesser effect on your health.
Launching the handsets, Rajendra Gupta, general manager telecom, Intex Technologies, said, "Enthused with the success of INTEX V.DO, we decided to expand the range to cater to a wider audience and set a new benchmark for performance, entertainment, quality and affordability. Each model is a complete package in itself."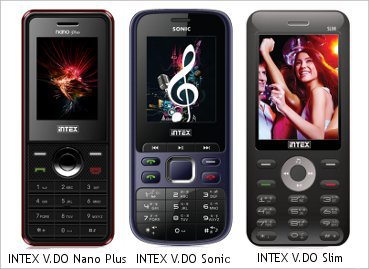 INTEX V.DO Magic grabs attention owing to its 'magic' navigation key. One can change screensaver – themes with a single touch of the key. It is an ideal choice for all those users who need to store large amount of data up to 16 GB.
INTEX V.DO Slim is a sleek music companion with five-way navigation key and universal 2.5 mm jack. INTEX V.DO Sonic is again a treat to music enthusiasts with crisp and clear audio output. INTEX IN 2040 N stands out for its long battery life. If an economy phone tops your shopping list, INTEX V.DO Nano Plus would bowl you over with a wide assortment of basic features and a long battery life.
All the above models are GPRS enabled with an Intex Zone (MSN, Yahoo, Facebook, Mobile Tracker, Answering Machine), vibrant and big display, FM radio with recording, webcamera, Bluetooth with A2DP, expandable memory up to 8 GB, and Blacklist facility.