Chip maker, Intel has announced the launch of a new Atom based chip platform for mobile devices, named as Clover Trail+.
The Clover Trail+ is the upgrade to existing Clover Trail platform mainly intended for tablets. Clover Trail+ takes older Medfield platform and adds a second CPU core which adds better processing capabilities to the chip. Also new dual core graphic processor has been adopted that improves graphic performance.
Intended to power smartphones and tablets alike the new platform will enable high performance devices while putting Intel Atom processor in the fast lane as well.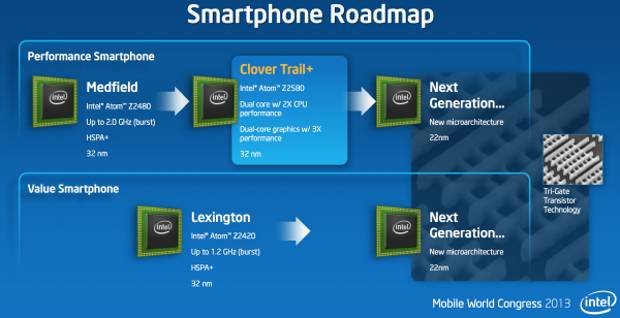 The Clover Trail processor Z2580 has two cores, both capable of reaching the peak clock speed of 2 GHz, as compared to the present Clover trail that has a single core capable of doing 1.6 GHz. So there will be a performance difference that will be in for devices based on the newer platform.
Built using 32nm fabrication, the chips will offer better energy saving along with that the devices will be capable of having up to 16 megapixel cameras as well as full HD 1080p video recording and playback capabilities as well.
With that the devices will now get support for the all new Jelly Bean operating system thereby allowing devices to have better compatibility with application as well.
Although the platform looks promising for boosting Intel's reputation amount mobile devices the adoption remains the bigger question.