Intel has formally unveiled the new Atom Z3000 series system-on-chips for tablets, laptops and convertible factors. The new Intel Atom Z3000 series SoC codenamed Bay Trail is capable of running Windows and Android platforms. Tablets with Intel Atom Bay Trail chips are expected to arrive in the fourth quarter this year.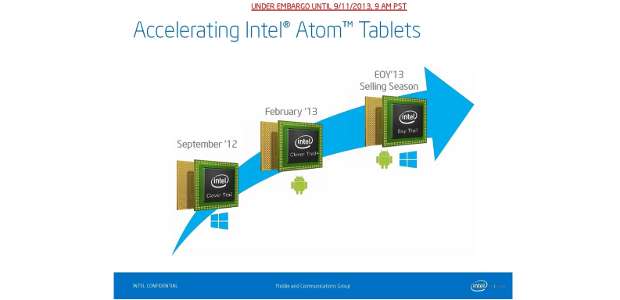 These new Atom Z3000 series chips are based on Silvermont microarchitecture, announced earlier this year in May. Silvermont microarchitecture runs on the lowest possible power and delivers high performance. The mobile processors codenamed Bay Trail T are meant to boost power in sleek Android and Windows 8.1 tablets.
Intel Atom Bay Trail Z3000 series SoCs will be Intel's first multi-core SoCs meant for the mobile platform. Android and Windows 8 based tablets will get more than 8 hours of battery life including video playback, and also get 3 weeks' standby time. Intel Atom Bay Trail chips are expected to deliver two times more performance with the Intel Burst Technology 2.0 for the four cores. The dedicated Intel HD graphics card promises three times more performance than the last generation graphics chip.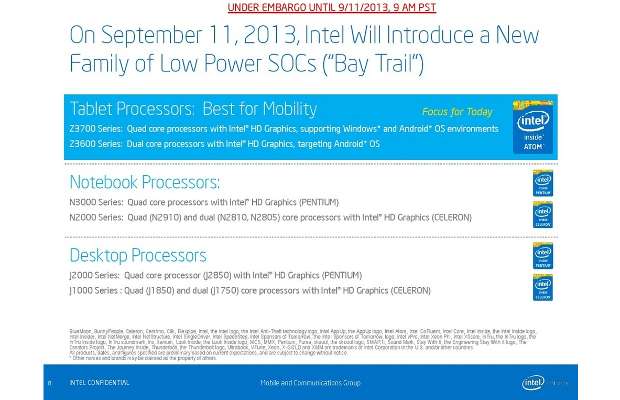 The Bay Trail chips will support up to 2560 x 1600 pixel displays and also Intel's own wireless display technology to share the screen with HD TVs. The tablets powered by Bay Trail chips could be as thin as 8 mm, lightweight and have screen real estate between 7 and 11.6 inches. Intel has also added a plethora of security and data protection technologies on the chipset. It aims to bring 64-bit support for the tablets by early next year 2014.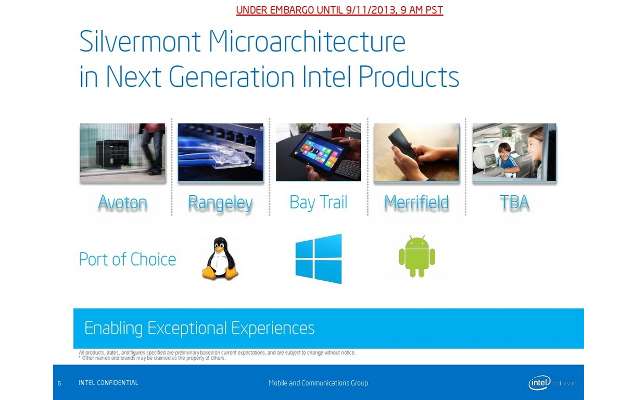 Only by the end of this year can we expect to see some Intel Atom Bay Trail Z3000 series SoCs packed thin tablets running Android or Windows 8.