Instagram has introduced a new Focus mode to enhance portrait shooting through its app camera as part of its version 39 update on iOS and Android devices. "Focus" mode will first detect a user's face and then blur the background so as to give a bokeh-like shot from a smartphone. Users would then be able to share this image or video on their Stories or posts with stickers, texts or filters like any other regular picture.
The Focus mode is currently only available on Apple's iPhone 6s, iPhone SE, iPhone 6s+, iPhone 7, iPhone 7+, iPhone 8, iPhone 8+, iPhone X and select Android devices. So for users of the iPhone X, there are now two options for them to try out instead of the inbuilt Portrait mode. While Instagram Focus surely helps blur the background, it might still not be as powerful as Apple's software used for capturing portrait shots on the iPhone X. This is where Instagram's newest update will come as a rescue as the Apple's portrait mode only works on iPhones with dual rear cameras.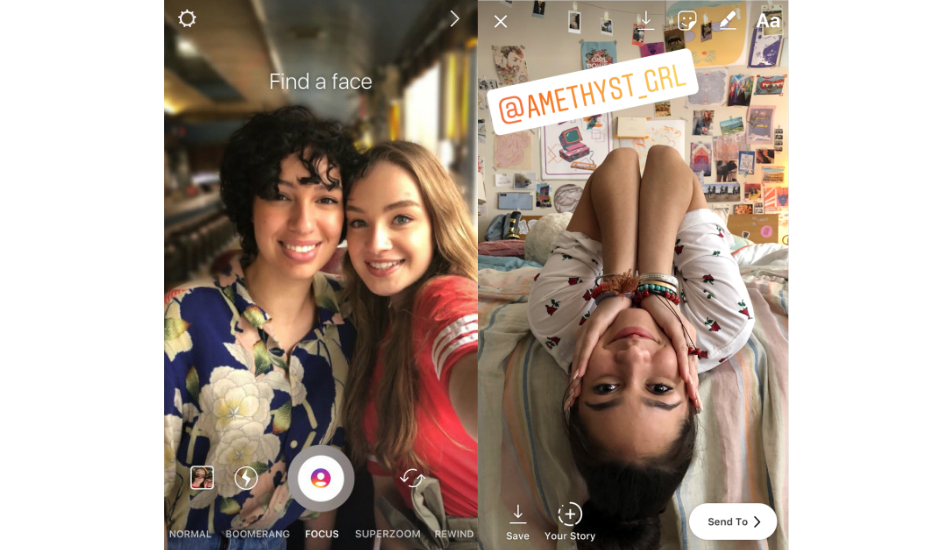 In a statement released officially, Instagram said: "When you open the camera, you'll see "Focus" next to "Superzoom" under the record button. Take a selfie or switch to the back-facing camera to find a friend. As soon as there's someone in the shot, you'll notice the person stays in focus while the background softly blurs — making sure they stand out in a striking way. Simply tap to take a photo or tap and hold to record a video."
The update also rolls out Mentions sticker that allows users to tag their friends in an Instagram Story more easily instead of just a text. @mentions can be used as any there sticker like adding emojis to picture or a video and can be resized according to a user's choosing. The sticker would be a direct link to your friend's profile if you've tagged them in a picture for others to view.