A new version of photo sharing App Instagram has been launched for iOS devices. The new Instagram 2.0 has a redesigned user interface with four new filters. The camera has also been provided with a new technology layer.
Instagram is managed by just six staff members and 150 million photos had been uploaded on the app by August. The number comes as a big achievement considering that the app is available only on iOS devices.
The filters have been rewritten in a manner to make sure users don't have to wait long to apply one to a picture. The company says the new filters work 200 times faster than they earlier did.
"We're excited to provide four brand new filters: Amaro, Rise, Hudson, and Valencia. With these new filters we continue the trend of turning regular photos into beautiful snapshots. What's most exciting to us is that we've teamed up with @colerise, an extremely popular Instagrammer, to produce these new effects.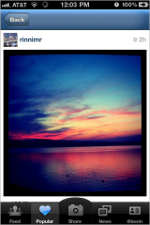 Keep your eye out for more collaborations to come," said the company while announcing the launch of Instagram 2.0.
Even those who believe Android Market had managed to catch up with Apple's App Store in terms of look and feel as well as selection of apps would agree that Instagram is one app which is lacking on Android devices.
Initially Instagram 2.0 looks very similar to its older versions, but while taking a picture the interface turns out to be hugely different.