Nokia is reportedly working on yet another Windows Phone device but with a different take. The images of the purported Nokia Lumia 730 smartphone prototype were grabbed by WPCentral. Touted as the selfie phone, the Lumia 730 was previously reported as Superman.
The images clearly highlight that the device in the question is a prototype unit. The Lumia 730 features a 4.7-inch touchscreen display. Codenamed as Superman, the Lumia 730 has a 5 megapixel camera to click self portrait.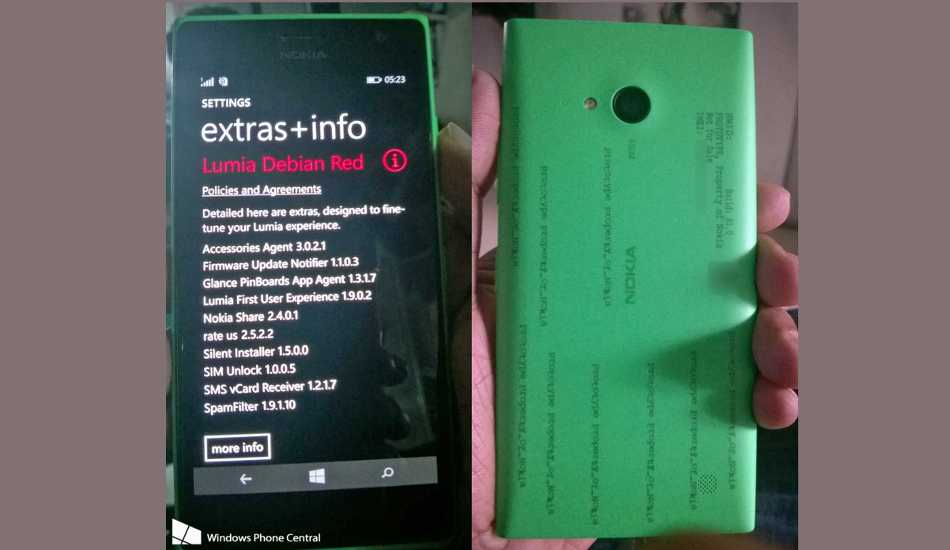 The smartphone seems to be running Lumia Debian Red which does not clarify version. It could be either the Windows Phone 8.1 Update 1 or the version after that with Nokia features. That makes it quite clear that Nokia has been labelling the Windows Phone update in alphabetical order – A for Amber, B for Black, C for Cyan and D for Debian. We won't be surprised if the name Debian Red is changed to a colour shade starting from D just like Nokia changed Bittersweet Shimmer to Black.
At the back of the phone there is a camera with an LED flash to its right and right next to that is a five tiny hole bearing outing which might be a dedicated microphone. On the corner at the back was a speaker mesh.
Nokia is expected to announce the new Lumia 730 in coming few months after Microsoft formally releases the Windows Phone 8.1 Update 1.