Instant meesaging service provider, Shape has rolled out latest beta version of its all-in-one IM+ Messenger for Android platform. The new IM+ for Android 6.1.8 Beta comes with a black theme for better viewing at night. Currently, this instant messaging app allows a user to sign into different messaging services such as Skype, Facebook Messenger, MSN, AOL, Google Talk, Yahoo Messenger, ICQ and others.
IM Plus by Shape Services has been one of the early multi-account instant messenger client. Available for almost every mobile platform, the new IM+ for Android beta aims to take the messaging experience to the next level in terms of visual appeal. Along with regular set of instant messaging service, Shape has also added the free mobile-to-mobile instant app messenger – Beep, which is very similar to the WhatsApp service.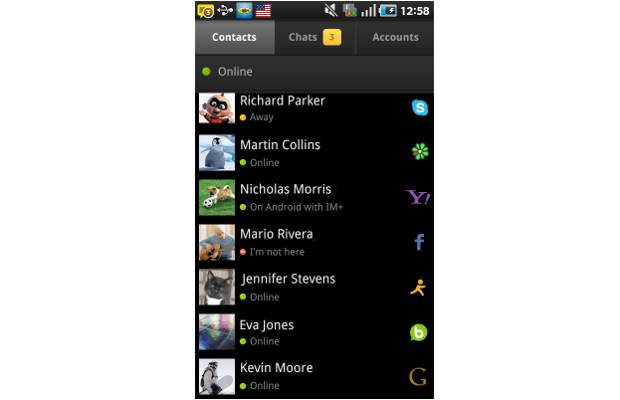 The new IM+ for Android Beta comes with Black theme to make the messenger pleasant to the eyes even at night. Those interested in testing out the Beta version of the IM+ app can download it from this page. Do note that this is a beta build so expect some hiccups and issues in normal usage. Also this is not an ad-free version.
IM+ competes with several such multi-login services application messengers such as Nimbuzz, Fring and number of others.