A new web portal, known as 'Because We May', is offering huge discounts on mobile games and applications for both Android and iOS device users. The promotion will kick off on the 24 of this month and will continue till the 1 June.
The portal has announced this promotion as it is celebrating for the app stores that give their developers option to price the apps and software as they feel right.
Under this offer, the applications will be offered with huge discounts over its regular pricing which is obviously priced at a premium allowing all the smartphone and mobile device owners get the feel of these premium applications without burning a hole in their pocket.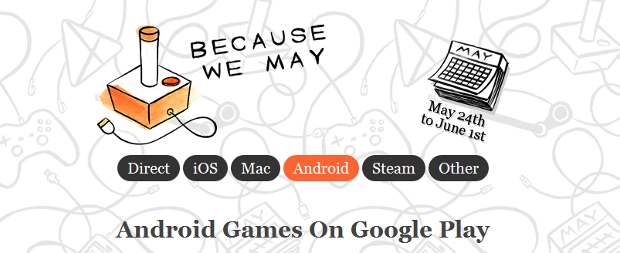 The portal has lined up many apps from across the genres that would be available for a discount. World of Goo, Shadow gun, Riptide GP, and Osmos are a few of the very popular titles that have been included in this sale. Although the price or discount amount of these apps have not been revealed but the portal is expected to do so soon.
Till now there are 39 popular titles that have been included in the list and by the time the sale actually starts, more apps are expected to be added and made available through his offer.
The apps will be listed on the home page of BecauseweMay.com and the respective application stores as well. Users can search for the application and get a direct download link from the home page of the sale itself from May 24.