Huawei will launch six new 3G dongles in the market, priced between Rs 1,700 to Rs 4,500. These data cards will not be SIM locked and can be used with any network operator. Huawei claims that its new dongles are 15 per cent faster than dongles from other manufacturers at any given location as they use a technology called T3i technology which ensures good network access even in poor network conditions.
The most expensive of the lot is actually a WiFi router which comes with a battery and SIM slot. Called Huawei E560, this router will be priced at Rs 4,500 and offer five hours battery backup. There is no need to connect it to a PC or laptop. Simply insert the SIM and share the network with up to five devices with speeds up to 7.2 Mbps.
The second one is the E355 which has the same features but comes without a battery, for power source one can plug it in any mobile charger with a USB slot (which is very common these days) or to any laptop. You don't need to configure settings. However, you can secure it by a password. It offers speeds up to 21 Mbps and will be priced approximately at Rs 2,500.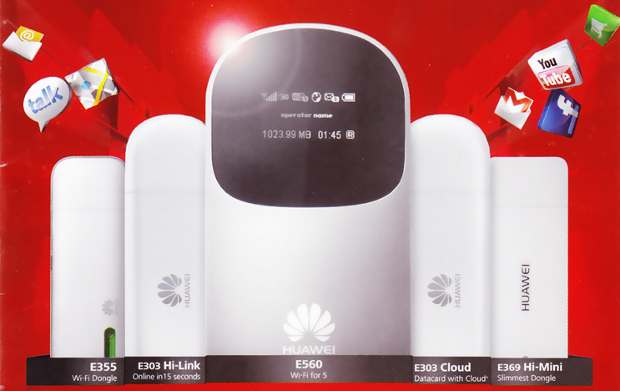 Huawei will also launch the smallest dongle in the market with its E369 Hi Mini which is claimed to be the slimmest dongle in India. It will come in multiple colours. It offers speeds up to 21 Mbps.
There will also be something called E303 Cloud, which is a cloud dongle that offers access to Huawei's cloud and messaging solution with 2 GB free cloud storage. The cloud storage means that you can easily share documents, music pictures etc with ease.
E303 Hi Link is a normal dongle but does not need any driver to be installed to be used, and the base model is called E303c and offers speeds up to 7.2 Mbps.
Freebies
Huawei will also offer a lot of freebies with these dongles like free anti virus for one year and additional 5 per cent discount on eBay, and Rs 750 worth of gift voucher from online retailer nCarry and Rs 300 gift voucher from Ibibo.