Huawei recently announced that it is working to bring the Android Oreo update for its two-year-old flagship devices, the P9 and P9 Plus. However, it now seems that the brand has discarded this idea.
A Huawei P9 customer has sent an email to Huawei UK support team, asking when the device will be getting the Android 8.0 Oreo update. The support team replied that the said device will not get Oreo. The team cities some hardware limitation that is causing issues such as system built-in failure, device freezing and battery drainage problem. This is keeping the OEM from releasing the update to its customers.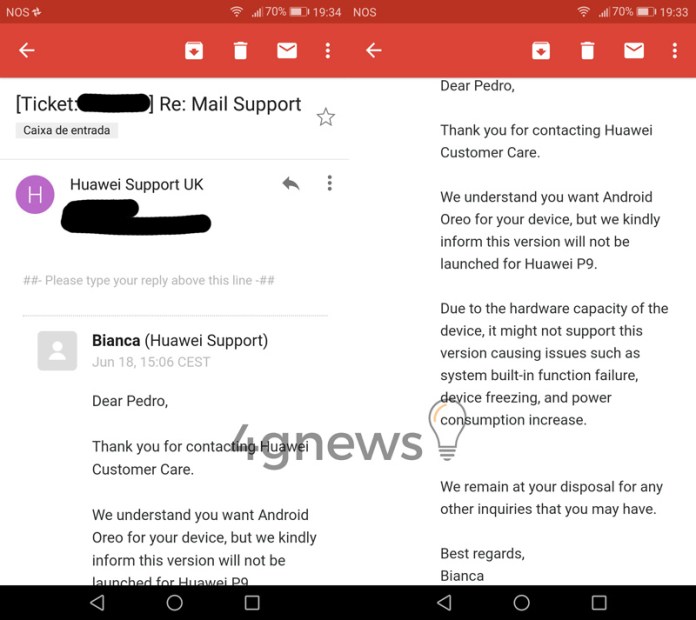 This is really odd to see that a brand like Huawei is discarding the software update to its flagship device, which was launched two years back. This comes as a disappointment as most of the brand nowadays gives you two major updates on the flagship devices. Further, there is no word on whether the Huawei P9 Plus and P9 Lite will get the update, but assuming that there might be hardware restrictions in these phones as well, one should not keep their hope on getting Oreo update.
Meanwhile, its sub-brand Honor is now seeding an update to the Honor 10 with a slew of enhancements and a Party Mode which is expected to be rolled out to all devices in the coming weeks.
Shifting the build number of the firmware to COL-L29 8.1.0.120, the highlight of the update is the new Party Mode feature which allows users to connect several devices through NFC to enable playing the same song together. The feature will not only be able to boost the audio volume but gives each user the ability to change tracks and play the same audio simultaneously. Party Mode is currently available for the Honor 10 as well as the Honor View 10.