It's expected that Huawei will be launching Mate 10 sometime in October. According to a latest report by a Chinese website, yesky.comMate 10 will come with a bezel-less 6 inch display having aspect ratio of 18:9.
Mate 10 will be powered by a10nm HiSilicon Kirin 970 chipset, so it is expected to deliver performance equivalent to Snapdragon's 835.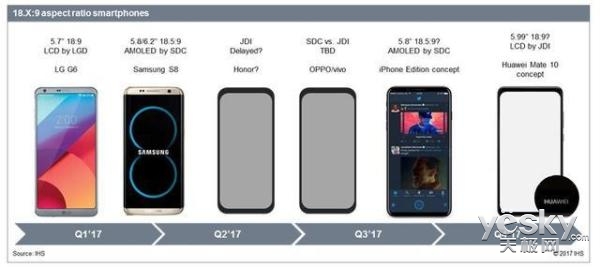 Mate 10 is supposed to feature an unconventional 18:9 6-inch display having a 2160×1080 px resolution (4K). Currently, Only Samsung and LG are using this type of display on their flagship but after this it seems that Huawei will be joining this list pretty soon. Also, currently, the last's year mate is using a conventional16:9 5.9 inch display. So, this shift will actually make the device much slimmer and longer.
Also, according to some more reports Huawei Mate 10 may come loaded with AR capabilities as it is expected to come with 3D Dual Sensing camera.