During the IFA 2018 event in Berlin, Huawei announced its new EMUI 9.0 firmware which will be based on Google's Android 9.0 Pie. The company also revealed that the Mate 20 series, which it said will be introduced on October 16, will be the first smartphone to run on Huawei's latest software.
With EMUI 9.0, Huawei is streamlining into newer designs with the consistency of the UI and lighter colours to improve performance and visual representation. Android Central reports, the controls inside the interface have been minimised considerably with the number of menus brought down to 843 from 940. There's a new Nature UX which enables a minimal style UI through natural sounds and colours.
Alarms and incoming calls will now take advantage of the whole screen while the Settings app displays artistic illustrations in each section. In terms of apps, Huawei's own apps will soon feature tabs and controls at the bottom part of the screen which is the easiest place to access, however large a smartphone is. This will thus allow room for one-handed navigation across the entire interface and will go well with new swiping gestures on home screen which will bring up the navigation panel.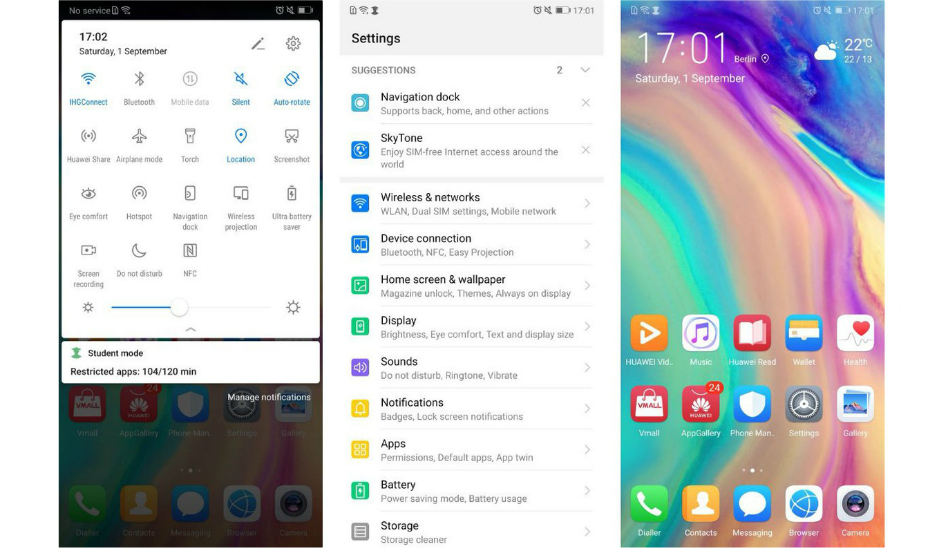 Since this is based on the latest Android 9 Pie, EMUI 9.0 will employ a new gesture setup for task-switching. Swiping up from the centre on the bottom chin will get back to the home screen or lead you to the Recent apps menu while swiping from the left will take you back to the previous screen. There's also the new and improved GPU 2.0 which works on newer algorithms to minimises the power required by a game for a lag-free performance. The new Password Vault will store all your usernames and passwords under one roof and can only be accessed through facial recognition or the fingerprint scanner.
Huawei has promised 12.9 percent better performance in the latest version of EMUI with better app load times of at least 10 percent compared to the EMUI 8. Huawei has also built its own version of Digital Wellbeing with means to track your usage, limit the time you use an app for and a wind-down mode for a Gray-scale display during the night, similar to what Google introduced in Android 9 Pie.
Huawei's EMUI 9.0 is currently out for beta testing and will roll out for the P20, P20 Pro, Mate 10, Mate 10 Pro, Honor 10, Honor View 10 and the Honor Play as part of the testing phase.