Following the launch of the HTC flyer, HTC seems to be secretly working on a faster Android smartphone that will be definitely faster than its flagship device the HTC Sensation. HTC Runnymede is the code name for this new device and the details for this device are no longer a secret as Androidguys have located the details for the upcoming android smartphone.
The HTC smartphone codenamed Runnymede will be based on Android 2.3.4 Gingerbread operating system with a custom HTC sense 3.5 user interface. The device will be powered with Qualcomm Snapdragon MSM 8255 Chipset with a 1.5 GHz application Processor and dedicated graphics core as well. For RAM the device will feature a 786 MB of memory while the device will come in two storage version with 16 GB and 32 GB of internal storage. To make it sturdy enough the device will be made up of a 9.9mm sleek dustproof unibody design made up of aluminum.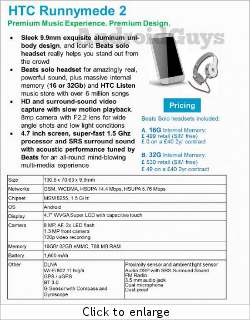 Speed is not just the thing for which this device will be popular. The Runnymede will feature audio which will be far superior in comparison to smartphones available today. The acoustic performance on the Runnymede will be tuned by Beats audio for perfect sound performance and along with that the device will come with a beats Headphone as well. IF that's not all then to make things more exciting the device will also feature SRS surround sound technology and active noise cancellation with the help of dual microphones for added user comfort.
Officially there has been no comment made by HTC for the devices but the price information has also been revealed along with the specifications and the HTC Runnymede will internationally cost Rs 23,500 approximately for the 16 GB version and Rs 25,000 for the 32 GB version. But in case of India the prices will not be as they are internationally and the prices are expected to compete against Samsung Galaxy S2 as it will be the closest competitor to the Runnymede once it's launched.