Just about two weeks back we had heard from HTC that they will soon be rolling out the Google Android Ice cream Sandwich updates for their Android based devices but they did not disclose when and for which devices will it be taking place. But living up to its reputation of delivering in time updates, HTC has announced the availability of the Google Android ICS update for its devices as soon as early next year.
By early next year we expect the updates to be available within the month of January itself but even if something goes wrong, we are still hoping that at least we will get a confirmed roll out date by that time if not the update itself.
The information came from HTC's Facebook page. The official statement that appeared on HTC's Facebook account reads, "HTC knows how excited our fans are to get their hands on Google's latest version of Android, Ice Cream Sandwich, so we're thrilled today to announce the first wave of HTC phones that will receive upgrades. Ice Cream Sandwich is coming in early 2012 to a variety of devices including the HTC Sensation, HTC Sensation XL and HTC Sensation XE, as well as the HTC Rezound, HTC EVO 3D, HTC EVO Design 4G and HTC Amaze 4G through close integration with our carrier partners."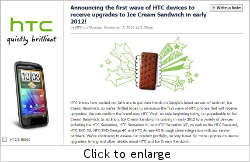 Although not many of the HTC devices that are presently in India have been included on the first wave of these upgrades but all the flagship devices have been chosen for the upgrades. So users who have paid a considerable sum of amount for these premium smartphones will get better worth for the money they spent on these devices. So for India, the update will be rolled out for devices like the HTC Sensation, the HTC Evo 3D and the upcoming HTC Sensation XE.
There is news that other newer HTC devices have also been considered for the Android ICS upgrade but that will only be confirmed in the next wave of upgrades for the ICS. Till then stay tuned for more updates.