Customised personal computers and laptops are very common but the same concept is still alien when it comes to mobile phones. However, now in a path breaking move which could start a new trend in the smartphone industry, HTC is offering its latest handset – the HTC E1 – with customisations.
However, the offer is only available to people of China region who can now customise their HTC E1 when they buy it from HTC's own eStore.
HTC is offering six colour and pattern choices for the body of HTC E1. Also, you can choose to have a 5 megapixel or an 8 megapixel unit. You can choose to have 8 GB or 16 GB of internal storage. If you order the full loaded version of HTC E1, you will get the phone with red colour internals.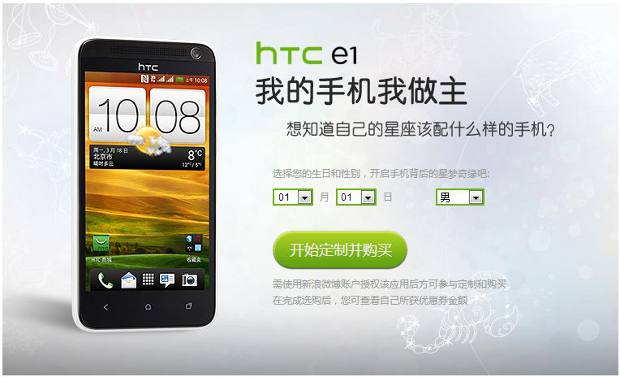 Besides, this dual SIM phone has Android 4.1 (with Sense 4+), a 4.3 inch WVGA Super LCD 2 display, and a 2.1-megapixel f/2.0 wide front-facing camera which is similar to that of the HTC One. HTC E1 also has a dual-core 1.15 GHz processor, 1 GB RAM, and 2,100 mAh battery.
HTC has also partnered with a Chinese portal – Sina – to offer some advice on the customisation based on users' zodiac sign and gender. The phone's price ranges between Â¥1,699 (Rs 15,000) to Â¥1,899 (Rs 17,000), depending on what you choose.
Though it looks like that HTC is indeed offering some choice, but actually it is not purely a customisation. In all likelihood HTC has made four variants of the phone with 5 megapixel camera and 8 megapixel camera (and two storage options being the two different versions). Almost all the companies now offer phones with different internal storage options. And the colour option is just a matter of swapping a body panel with other so that is also nothing very new.
It would have been revolutionary if there was more customisation in what processor you want, how much RAM you want and so on and so forth, but that is not the case of HTC E1.