The Taiwanese company HTC is planning to announce another flagship smartphone in the coming months. Specs for HTC 11 smartphone have been leaked online from China however, nothing has been officially revealed by the company yet.
A screenshot of the HTC 11's About Phone page has been leaked via Chines microblogging website Weibo which was first spotted by AndroidSoul. The screenshot shows HTC 11 running on Android 7.12 Nougat. Google has recently released Android 7.1.2 Nougat, and the update is currently being rolled out in beta and can be installed by anyone who wants to test the new update for Nexus and Pixel devices.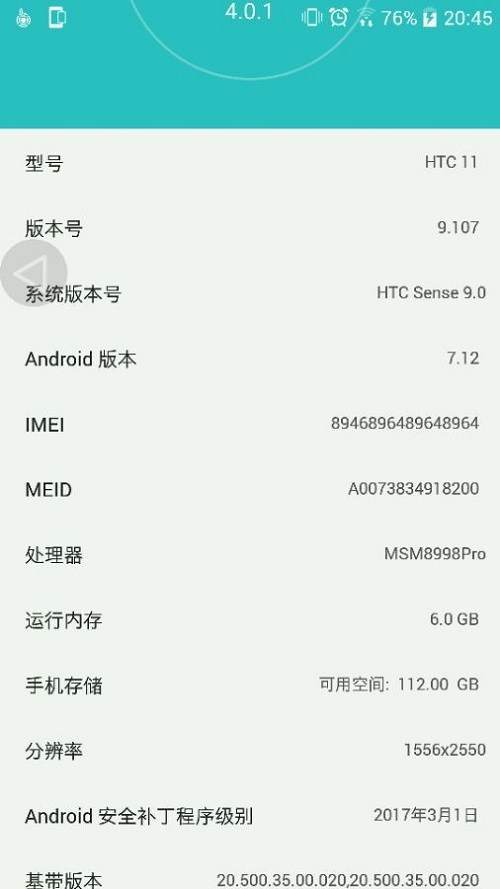 Also read: HTC to launch three new smartphones in Q1 of 2017
The leaked image reveals some specs of the HTC 11 which includes Snapdragon 835 processor coupled with 6GB of RAM and 128GB of internal memory out of which 112Gb is available to users. It has the Android 7.1.2 version of the operating system with HTC Sense 9.0 user interface on top.
One interesting piece of information revealed by the leaked screenshot is the screen resolution of the handset which measures 1556 x 1550 pixels. Ideally, by default, a QHD screen has a screen resolution of 1440 x 2560 pixels. The new resolution of 1556 x 1550 pixels might be hinting at a curved edition of the HTC 11.
We advise our readers to take these specs with a pinch of salt as nothing has been confirmed by the company yet. As per reports, HTC might skip the Mobile World Congress 2017 to be held later this month in Barcelona. HTC 11 is expected to be announced in April this year.
Note- The top pic is for representational purpose only.