Making the most of the festive sale during Diwali this year, Huawei sub-brand Honor has revealed that it sold over a million smartphones in a span of days. Honor took to Twitter to post its sales data during the Diwali sales that happened across various e-commerce sites last week.
Honor pulled close to 300 percent year-to-year growth in contrast to what it sold during 2017 as it revealed that it expanded its userbase by 32 percent by selling over 1 million smartphone units. Having exclusive phones on both Flipkart and Amazon, the Honor 9N and Honor 8X sold the most on respective sites with the latter being the best seller on Amazon's Rs 12k-15k category.
Honor also revealed that the five cities with the highest sales of Honor smartphones were Hyderabad, Chennai, Bengaluru, Pune and Kolkata. In addition to positive online sales, Honor has announced that it has grown its online presence having surpassed 10 million downloads for the Honor App Store on Google Play.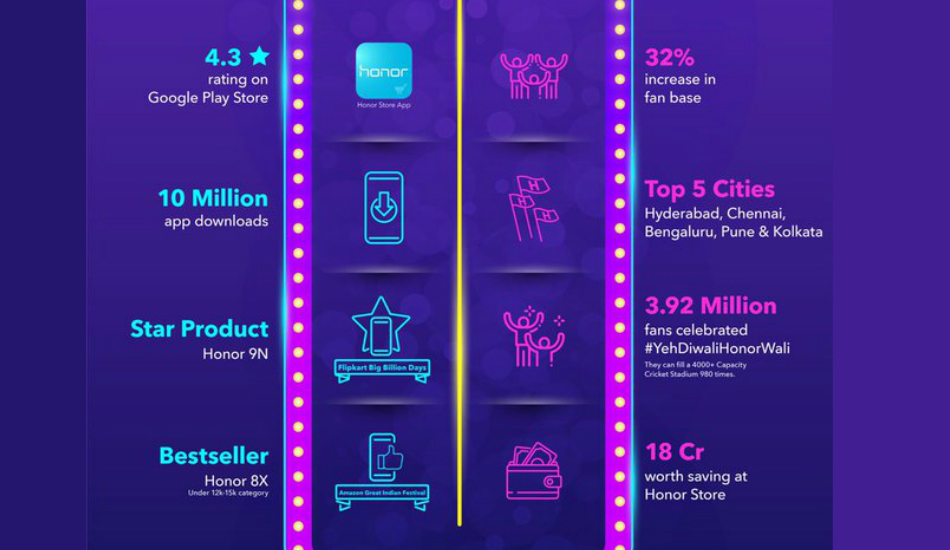 Honor hosted the sale of its Honor Play, Honor 9N, Honor 9Lite, Honor 7A, Honor 7S, Honor 9i and Honor 10 for special prices during Diwali sales on both Amazon and Flipkart.
The company in China also launched the WaterPlay 8 tablet, Honor Watch Magic smartwatch and Honor Magic 2, the last of which came with a sliding mechanism and a triple camera setup at the back.