Qualcomm recently announced its latest flagship chipset, the Snapdragon 845 mobile platform. Now, a list of upcoming smartphones that will be powered by the latest Qualcomm Snapdragon 845 chipset has been leaked online.
The list was leaked on Chinese website Weibo and it also shows the potential timeline of when the smartphones will launch. To start with, the list contains all the major flagships that will be launched in 2018, though there is no way to authenticate this information. So, we suggest you take this report with a pinch of salt.
According to the list, the Samsung Galaxy S9 and Galaxy S9+ will be launched with the latest processors in February. LG will also launch its upcoming G7 smartphone during the same month as well. In April, Xiaomi will launch the Mi 7 phone followed by HTC U12 in May.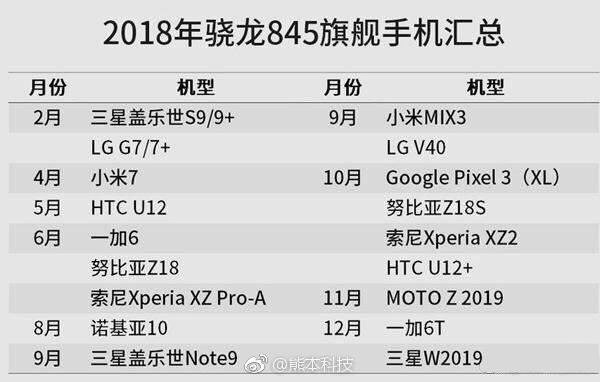 In June, OnePlus 6, ZTE Nubia Z18 and Sony Xperia XZ Pro-A will be launched with the latest chipset. In September, Samsung Galaxy Note 8 will be launched with Snapdragon 845 chipset along with Mi Mix 3 and LG V40. In October, Google will launch Pixel 3 and Pixel XL 3 with the latest processor and we will also see nubia Z18S, Sony Xperia XZ2 and HTC U12+ launched in the same month.
In November, Motorola will launch Moto Z 2019 with Snapdragon 845, while on December OnePlus will release the 6T. Samsung is also reported to launch its flip phone W2019 with the latest processor. Earlier this month, Qualcomm announced its latest flagship Snapdragon 845 mobile platform. With the Snapdragon 845 mobile platform, the company is heavily banking on the AI, camera, faster performance, among others.
For this, the brand has developed a new Qualcomm Hexagon 685 DSP architecture with GPU and CPU enhancements for faster processing of neural networks. The platform will allow more information to be processed locally, which will result in better latency, reliability and security. The AI platform supports popular frameworks such as Google TensorFlow and Facebook Caffe2.
Moving to the performance, the latest Snapdragon 845 processor uses eight cores with ARM A75 and ARM A55 cores. The four high-performance A75 cores will run at a clock speed of up to 2.8GHz, while the four power-efficient A55 cores will run at a speed of up to 1.8GHz. The chipset also features new Qualcomm Adreno 630 visual processing subsystem that features room-scale 6DoF with SLAM, Adreno Foveation, and it offers a 30 percent improvement in graphics/video rendering compared to the previous generation.
You might also like this:
Coming to the camera performance, the Qualcomm Snapdragon 845 comes loaded with Qualcomm Spectra 280 ISP, which it claims can capture 64 times more shades of colour information than our previous generation Snapdragon 835. The chipset will support up to 16-megapixel dual cameras and up to 32-megapixel single camera setup with hybrid autofocus, multi-frame noise reduction, HDR video recording and more. It will also allow shooting 4K videos at 60 frames per second and it also supports single-camera bokeh effect, similar to what we have seen in Google Pixel 2 series.