A new personal tour guide mobile application, called as Guiddoo, has been launched for Android devices. The app will soon be launched for iOS and Windows platforms based devices as well.
Guiddoo is first of its kind app and provides an audio-visual guide to world famous monuments and attractions such as the Taj Mahal, Statue of Liberty, The Colosseum, Leaning Tower of Pisa, Machu Picchu, as well as modern monuments like the Burj Khalifa, among others.
Guiddoo is an interactive app and allows for social sharing from within the app. It has a range of features that includes a step-by-step tour, key sights, timeline, history & trivia, images gallery, tourist information and more to make any travel memorable.
Guiddoo offers a site plan of the given monument where each sight within the monument is thoroughly detailed with textual and audio content. The 'key sights' section of the guide on the Eiffel Tower, for example, starts with a brief biography of Gustave Eiffel, its designer. It goes on to further share information on the 72 names of scientist, engineers and mathematician that has been engraved on the sides of the tower under the first balcony in recognition of their contribution that were restored in 1986 by the Societe Nouvelle d'exploitation de la Tour Eiffel.
Guiddoo's 'timeline' feature provides details of the historic events associated with the monument. Guiddoo also allows a traveler to create his own history by checking into the monument and being a part of the timeline.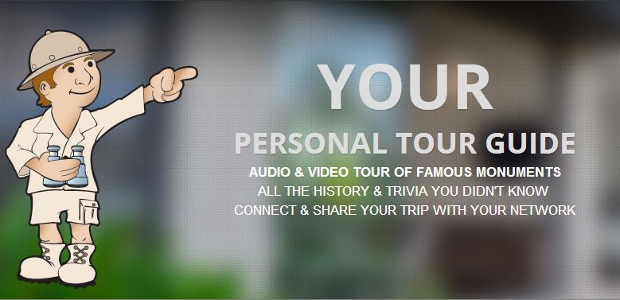 The section on 'History and Trivia' gives key facts about the monument from general information like the designer or the builder of the monument to unusual information such as that on the black Taj Mahal. Trivia on the Eiffel includes the fact that in 2009, it was named the third most popular place to commit suicide in Europe.
Guiddoo also provides important tourist information such as on the opening and closing time of the monument, ticket costs, weather, location map with tracking and key places of interests like hotels, restaurants and shopping areas.
Guiddoo is integrated with all social networks and allows users to map their activities – such as sharing photos or writing a journal to their personal social accounts.
Guiddoo currently offers complete tour guides on 11 monuments in the English language. In the next one year, it plans to cover 100+ monuments and tourist attractions around the world in 9 languages including Spanish (Spain & South American), French, Italian, Hindi, Chinese (Cantonese & Mandarin), Korean, Japanese, Arabic and Russian.
As of now the free version of Guiddo app showcases seven monuments and the full version is priced at US$ 1.99 or Rs 112 for a lifetime membership. Once acquired by a user, all future updates will be available at no additional cost.