Google has announced to retire the web content aggregation and feed reading service – Reader, on July 1, 2013. Launched in the year 2005, the Google Reader app for the Android will also be discontinued around the same time.
Google Reader has been offering the web content and RSS/Atom feed snacking service since 2005. In 2010, the company introduced the Google Reader app for Android and not many radical changes were implemented in this app.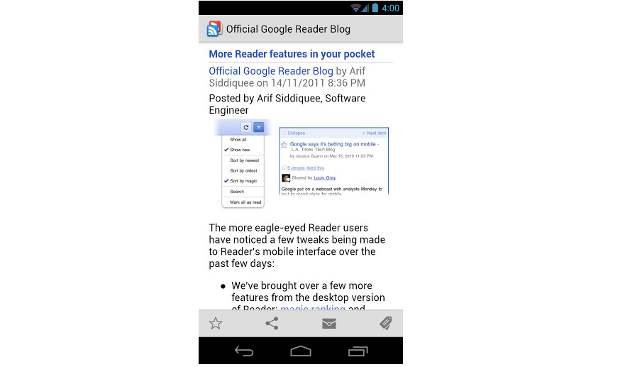 Google Reader has loyalists rooting and using the service ever since the inception, but the company notes a decline in the usage in last few years. Hence, Google has decided to retire the Reader service on July 1 and on the same day the Reader app will also elope from the Google Play Store.
Evolution of better presentation of the readable has led to slow decline of the Reader. Services such as Flipboard, Pulse, Google Currents, News 360 and many more have attracted the web enthusiasts to enjoy rich content instead of pure text only snacking of RSS/Atom and web content.