Google's Pixel 4 series is set to launch on October 15 in New York. Days after some features of the upcoming phone were revealed, there is now more information which indicates the compatible places and apps for the Motion Sense feature to work as well as other apps, wallpapers and themes which have now been leaked online.
Starting off, the Pixel 4's Motion Sense feature has been tipped to come with support for 38 countries and it's safe to say India isn't part of it. That is interesting since some of the supported apps that are touted to come with Motion Sense support are used in India.
The complete list of countries to come with initial support for Motion Sense includes American Samoa, Austria, Australia, Belgium, Bulgaria Canada, Croatia, Cyprus, Czechia, Denmark, Estonia, Finland, France, French Guiana, French Indian Ocean Territories (Réunion Island & Mayotte), French Polynesia, Germany, Greece, Guadeloupe, Guam, Hungary, Ireland, Italy, Japan, Latvia, Lithuania, Luxembourg, Malta, Martinique, Netherlands, New Caledonia, Northern Mariana Islands, Norway, Poland, Portugal, Puerto Rico, Romania, Saint Barthélemy, Saint Martin, Saint Pierre and Miquelon, Singapore, Slovakia, Slovenia, South Korea, Spain, Sweden, Switzerland, Taiwan, UAE, UK, US, US Virgin Islands and Wallis and Futuna.
The list of apps to come with Google Motion Sense includes Amazon Music, Anghami, Apple Music, AWA, 벅스 (Bugs Music), Deezer, Gaana Music, 지니뮤직 (Genie Music), Google Play Music, Hungama Music, iHeartRadio, JioSaavn, KKBOX, MyMusic, Napster Music, Pandora, Shazam, SiriusXM, Spotify, Spotify Stations, TIDAL Music, Wynk Music, YouTube Music and YouTube. Of the apps listed with support, Wynk Music, JioSaavn, Gaana and Hungama are available primarily in India. This indicates that there's a possibility that India could be included in the list of regions supported by Motion Sense once Google can work with app developers.
Motion sense will enable users to make gestures without touching the screen. The feature will work with the help of the Soli sensor and will track the movement of a user's hand to execute functions like skip a tray, silence the phone and more.
Besides that, the Pixel 4 Launcher, Pixel Themes app and live wallpapers have all been leaked online. The new launcher now comes with swipe-down notification gesture which is available across several third-party launchers but wasn't present on Google's launcher. Other aspects of the launcher appear to be similar to that of the launcher on the Pixel 3 series phones.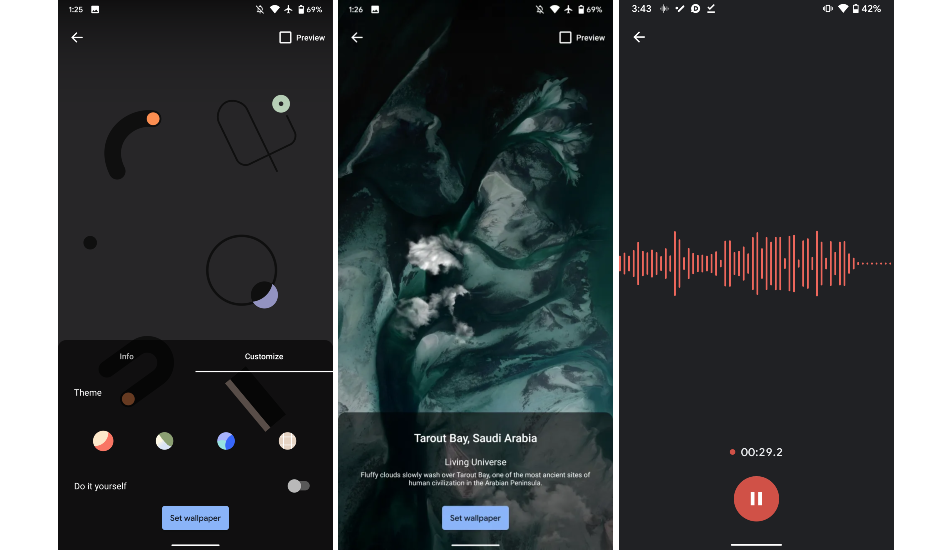 There's a new Pixel Theme app which offers adjustments to system font, icon shapes, colour accents and custom variations. The Pixel Themes app can be accessed by heading over to the 'Styles' tab inside Wallpapers. There are new wallpapers that have been leaked online as well with customised landscapes and designs.
Google is also expected to announce a native voice recorder as an inbuilt application on Pixel 4. The app will be straightforward with a red button start recording and the ability to share the audio clip with contacts, apps and Google Drive.