Flipkart has announced that it is holding Big Shopping days sale on its website from December 7 to December 9. The major highlight of the sale is the price cut on the Google Pixel 2 and host of interesting offers, which eventually brings down the cost to Rs 39,999. '
Flipkart is giving a flat discount of Rs 11,001 on the Google Pixel 2, which was launched in India for Rs 61,000 for the 64GB model, while the 128GB variant costs Rs 71,000. Further, the brand is offering up to Rs 10,000 cashback on all credit/debit cards. So, if you do the math, then this brings down the price of the Pixel 2 64GB model to Rs 39,999.
This is not it. Flipkart is also offering up to 18,000 off on exchange, however, the exchange value could be limited to high-end smartphones. Other than this, users will get buyback guarantee of up to Rs 36,500 when they exchange the phone later.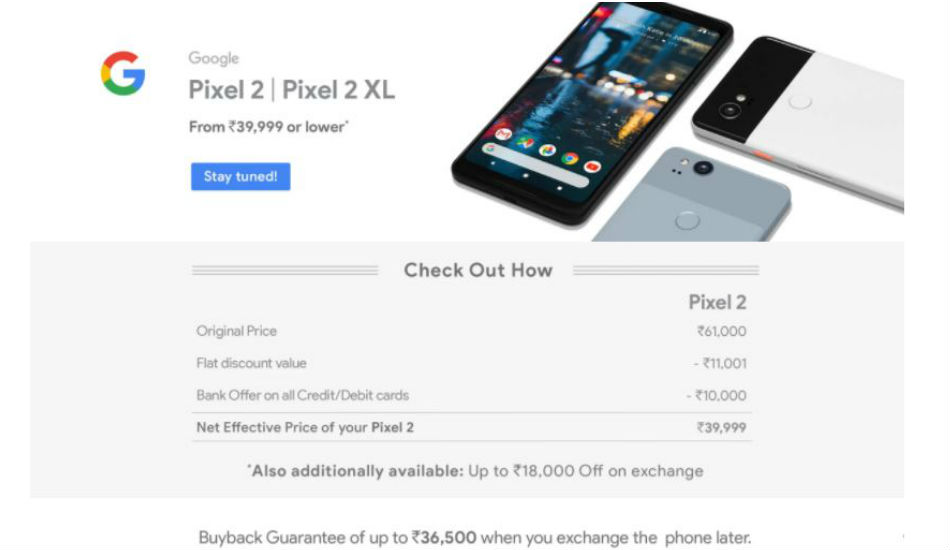 On the other hand, the OnePlus 5T is already available on Amazon for Rs 37,999 for the 8GB RAM variant and Rs 32,999 for the 6GB RAM variant. So, the question here is: should you go with the Pixel 2 or OnePlus 5T? Let's clear some air here.
Why Google Pixel 2 is better than OnePlus 5T!
To start with the Google Pixel 2, the smartphone comes loaded with the latest Android 8.0 Oreo update and it will be one of the first devices to receive the upcoming Android updates from Google as well, though, OnePlus 5T still runs on older Android 7.1.1 Nougat based on Oxygen OS, which is again close to stock. OnePlus has promised that it will roll out Oreo update for the 5T by early next year.
Google has also introduced ActiveEdge feature, through which one can squeeze the edges to activate Google Assistant. Coming to the virtual assistant, it has now become much smarter. In the coming weeks, your Assistant on Pixel will also be able to help with your daily routines, just by using one simple phrase. For example, when you go to bed at night, with a simple "good night" and Assistant can silence your phone, turn off the lights, set your alarm and more.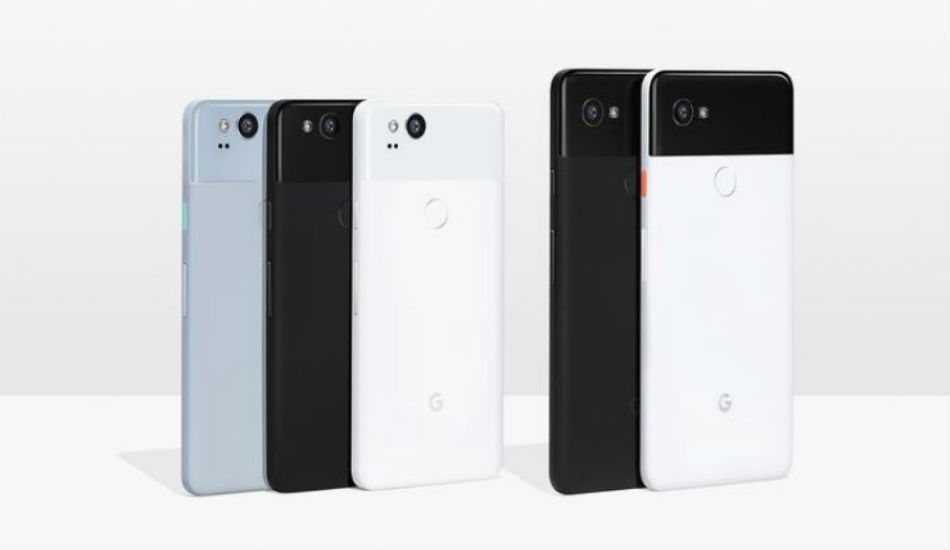 Another area where Google Pixel 2 outshines the OnePlus 5T is the camera department. The Google Pixel 2 features a 12.2-megapixel rear camera with 1.4-micron pixel size sensor, aperture f/1.8, optical image stabilisation, electronic image stabilization, dual pixel phase detection + autofocus with laser and 4K video recording. The camera has received the highest DxOMark score of 98, which is highest for a smartphone. On the other, OnePlus 5T features a dual-camera setup at the back, which features lens with same focal length, which the brand claims will improve the low-light performance.
Why OnePlus 5T is better than Google Pixel 2!
However, in terms of design and looks, OnePlus 5T is a clear winner. The device certainly feels more sturdy and sleek as compared to the Google Pixel 2. The Pixel 2 design is kind of outdated in today's scenario, while OnePlus 5T has adopted the latest trend of tall display in compact form factor, which certainly looks better.
Talking about the display, OnePlus 5T has an edge over Google Pixel 2 as it sports a 6.01-inch Full Optic AMOLED display with a screen resolution of 2160 x 1080 pixels and it sports an aspect ratio of 18:9, which is particularly missing on the Pixel 2. The latter sports a 5.0-inch Full HD OLED display with Always-On display and it is Daydream-ready as well. If you get a better and bigger display in the OnePlus 5T as compared to Pixel 2.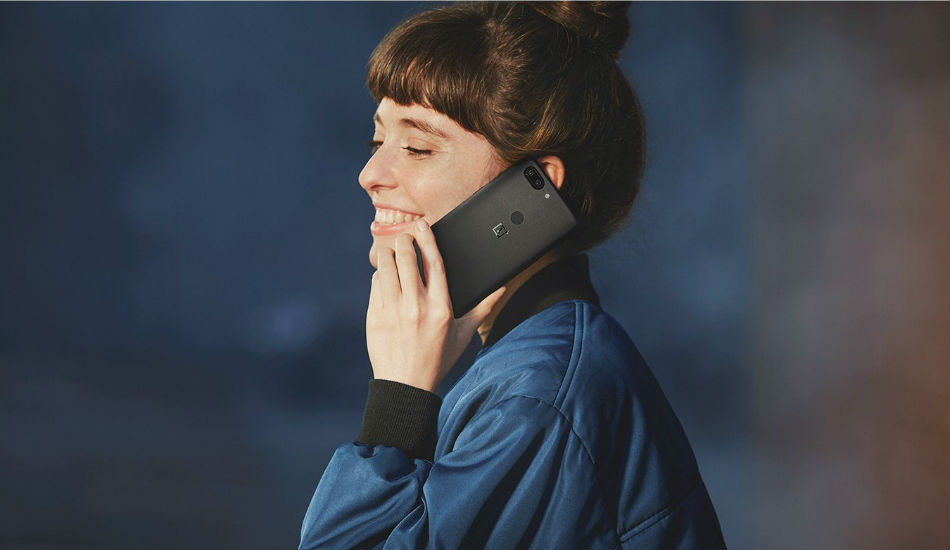 On the performance front, both the devices give an edge-to-edge competition as both of them are powered by the latest Qualcomm Snapdragon 835 processor. However, considering reduced price point, you get a 4GB of RAM and 64GB of internal storage on the Pixel 2, while the OnePlus 5T is offering just double with 8GB of RAM and 128GB of storage. This makes OnePlus 5T a better option as it sports more RAM and storage, as compared to the Pixel 2.
Moving on, another area where OnePlus 5T takes an unprecedented lead is in the battery department. The Pixel 2 features a 2700mAh battery, while the OnePlus 5T 3300mAh battery. But the star of the show is the Dash Charge technology, which has been already proven in a recent report that it charges quickly as compared to the iPhone X or Google Pixel 2. So, if you are a power user and want to quickly charge your phone, then OnePlus 5T is certainly the option you should opt for.
So, which one is better?
To conclude, the Google Pixel 2 certainly looks better if you are the one who wants a better camera and latest Android updates. However, considering the price cut is for a limited time only and the fact that OnePlus 5T has a lot to offer in terms of design, display, and overall performance, it is certainly a 'No Brainer' to understand which one is better for you.