Google had launched Nexus One in January with much fanfare but the device failed to get many takers. Now it has launched another Nexus device which is running on Android v2.3 Gingerbread.
Gingerbread is the latest Android version to be announced, first one being Android Donut followed by Eclair and Froyo. It has been in the lime light ever since Google started working on this version of Android.
The Google blog confirmed that Nexus S will be the first device to sport the Gingerbread. Unlike the first Nexus which was developed by HTC, Nexus S has been developed in coordination with Samsung.
Nexus S comes equipped with 1GHz Hummingbird processor, both back and front facing cameras, 16 GB Internal Memory and near field communication (NFC) hardware. NFC enables users to use the phone as access card, credit card etc provided service providers enable these services.
It is also the first smartphone to feature a 4 inch contour display, claims the company, and is designed to fit comfortably in the palm of your hand and along the side of your face.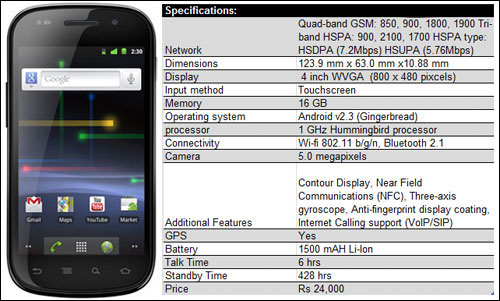 According to the Google blog, Gingerbread is the fastest Android version, and the other improvements include internet calling, copy/ paste functionality for text, gyroscope(Orientation) sensor support, and a new keyboard.
Users in United States will be able to buy Nexus S after December 16, both online and in store, with T mobileconnection. India launch has not been announced yet. In the States it will cost $529 (Rs 24,000).
In the earlier version of Nexus, Google had put its bet on online sales, but the experiment failed. This time around they are going with the traditional sales channel. The phone will be available in USA through the retail stores as well as bundled.
Participating in a conference, Andy Rubin, vice president, Google, said Nexus One didn't shake up the business model because Google ended up biting more than it could handle. This time, the company is selling the phone through traditional channels, such as Best Buy and then there are locked phones as well. While answering the questions, he also flashed a new Motorola tablet, which ran probably on Honeycomb (optimized for tablets) with the latest Google Maps version.