Google has released yet another update for its Maps application that brings a slew of features including the option to add photos to places. With this, most features of the desktop version of Google Maps are now available for the mobile App as well.
Frequent travellers can make use of the new My Places, Descriptive Terms, on-the-go checking in and can also upload photos for a place using the Google Maps 5.8 app.
This new update is available for Android 2.1 or higher update running devices.
New Google Maps 5.8 app for Android devices brings capability to click and upload images of a place &#151 coffee shop, book shop, bar or even Offices. With this new update, you can instantly attach images to your review as well as rating for the places you visit. Adding photos adds bit of visual element to that particular place which would help others to go for it or avoid it.
Google has also added support for My Places which includes a list of places that user has frequently visited along with those which were recently viewed. Besides that, users can also add descriptive terms like 'fresh brewed coffee' or 'pathetic and slow service' to the places they wish to review and ratings.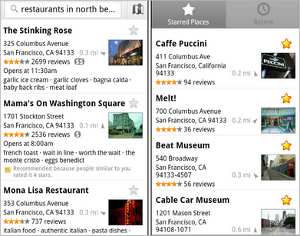 Images as well as descriptive terms aides several users to make a quick decision to visit a particular place or keep looking for other options.
The update also brings capability to Add Places 'on-the-go' for checking from the Maps App. For this users have to add name and location of the new place that is not listed. However, this place would be available only through the Latitude for checkin but won't appear when searched from Google Places or regular Google Maps search.
Google continues to add features to the Maps App for mobile but one must consider that constant usage of GPS on the move affects the battery life. Like if you keep your phone's GPS on for long, then it eats up significant amount of battery juice from the device.
Google Places is a location based service that competes with stand alone services like Foursquare and Gowalla. Unlike the latter two, the new bunch of features added in Places for Google Maps App brings more confusion for users rather than making it simple.