Google Search has been enhanced for the Android or iOS based devices with improved local search history. With the Google Web Search History enabled, now users will be able to enjoy quicker local search experience. There are few requirements to enjoy it – users must have Web History enabled from www.google.com/history and user should be logged into the mobile web browser with Google Account. A new Recent icon in the app will appear only then.
Many believed that Google has evil intentions to make use of the user's web search history for its own business plans. However, the company does tiny bit of improvement that can really help people when they're on the move. Search is a strong service offered by Google and the company improves it frequently with some new improvements.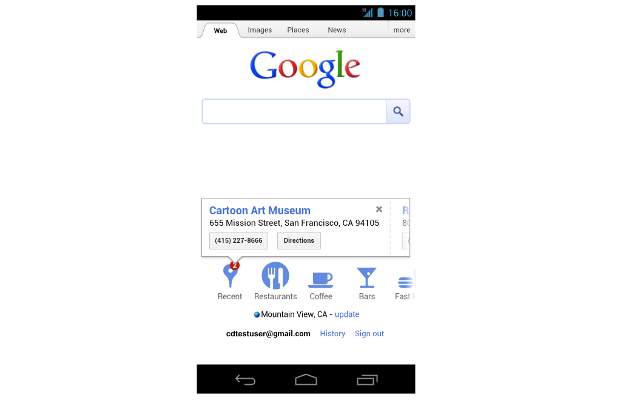 New Local Search Experience is one such improvement that gets enabled only after user has enabled Web Search History and logged into the Google.com mobile page in the web browser. Basically whatever the user has searched in Google desktop search version will be immediately available on the mobile version of Google.com through the 'Recent' icon.
Local search experience makes life of an Android or iOS user easier by using the Web Search History. One doesn't have to search for the same thing again. Slowly but gradually, Google.com for mobiles getting better as opposed to the Bing search engine for mobiles.
Once you have logged into Google.com from your Android or iOS devices, you will get to see the four basic icons – Restaurants, Coffee, Bars and More. Now we wish if there was a way to customise these icons and put something else in the order. It would really help the browser to get you best possible local results if you have enabled location (GPS) on your Android or iOS device.
Google has tried its best to provide best possible mobile search experience that saves time as well as effort.