A new update of Google+ App has been released for the Apple iPhone and iPod Touch devices.
Punit Soni, product manager for Google+, said in a post on the social network that the update brings a new Reshare feature so that users can easily reshare the posts from other Google+ users. Users will have to tap on the arrow near the comment box to bring up the "Share this post" option box.
Also you can use the iPhone or iPod Touch (fourth generation) to click a photo of yourself and then set it as your Google+ Profile image. Users can now create new Circles from the Circles Destination.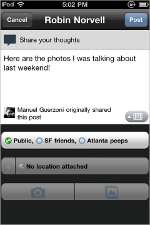 Users who wish to get into group chat can now enjoy Huddle &#151 the group chat segment, with a new AutoComplete feature where you can add users quickly and continue to chat with many.
Notifications were bit of an issue earlier but that has now been fixed with this update &#151 Google+ now provides accurately refreshed notifications when one returns to the app. As an added security measure, Google+ has now two-step verification process as well.
Notably, Facebook too recently rolled out a significant update for the iOS devices. However, there's still no sight of the Google+ app for the iPad not any information when it would be released.
The new Google+ update can be downloaded from the Apple App Store or from here for iPhone and iPod touch devices running iOS 4.0 or higher.