In a bid to boost use of paid applications, Google is now allowing developers to sell their apps through subscription mode. For example, for an app costing Rs 400, developers may allow users to use that application by paying a subscription amount which would be much less that the original price of the app.
Thus, if implemented, it would make many costly apps and games of Android app store within the reach of general users. You can subscribe the app for a smaller amount and play it as long as you want provided you pay that subscription amount in time as stipulated by the developers.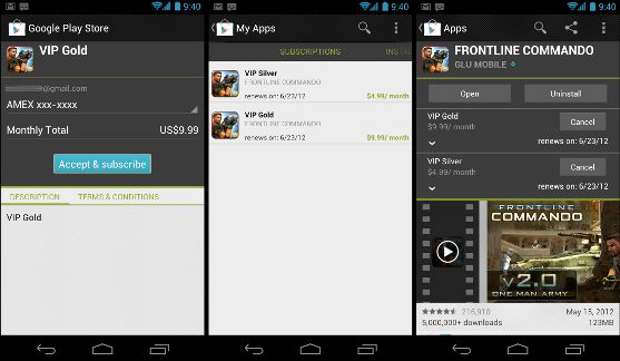 The subscription amount is besides the in-app purchases that are already there in some games which allow users to get additional facility. Users would either buy the apps by paying the full amount upfront or can choose to get the same through subscription mode.
Starting today, developers can use the facility to sell apps for a monthly or annual subscription amount. All subscriptions are auto-renewing, for every app and game and every type of subscription product. Developers just set the price and billing interval and Google Play manages the purchase transactions for them, just as it does for other in-app purchases.
For a convenient purchase experience, in the Google Play store details like subscription amount and billing interval will be highlighted for each app. After the transaction, Google Play will manage recurring billing and will keep users informed of new charges, sending them an email with each renewal. At any time, users can visit My Apps in the Play Store app to view their subscriptions and cancel any subscription as needed.
The model is applicable for each and every app on Google Play store if the developer chooses it. There is no compulsion of any sort for the developers to incorporate this system; they can choose not to if they don't want to.