G'Five Mobile, a Chinese handset brand, has launched four new dual SIM dual standby models. Two of these are entry-level handsets while the other two are multimedia handsets available at prices ranging from Rs 1429 to Rs 2459.
G115 and G116 are the entry level models priced Rs 1,429 and Rs 1,649 respectively. G115 sports a 1.8 inch display, digital camera (VGA), bluetooth, music and video player, wireless FM, loud sound, expandable memory up to 4 GB and dual torch. whereas, G116 features in addition to the features available in G115 has a long lasting 1450 mAh battery and expandable memory up to 16 GB.
In the multimedia range G'Five has launched G233 for Rs 2, 169and G505 for Rs 2169 for Rs 2,459. G233 has a 2.2 inch display, dedicated music key, digital camera (VGA), Hindi keypad, torch, FM radio, music and video player, 3.5 mm universal audio jack, Bluetooth, 1000 mAh battery & expandable memory up to 8 GB.
G505 has a integrated speakers for loud sound output. It has a 2.4 inch display, dual digital camera (front and rear), FM radio, music and video player, bluetooth, 1050mAh battery and expandable memory up to 4 GB. Both G233 and G505 have a free 2 GB memory card bundled with them.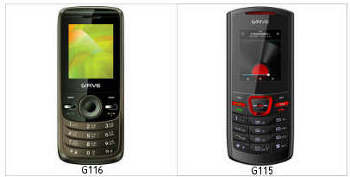 Arshit Pathak, managing director, Kingtech Electronics India Private Limited, a group Company of G'Five International, said, "Consumers now are expecting a much better multimedia experience. All the features like camera, expandable memory, short range wireless connectivity are present by default in every G'Five handset. Our focus is to offer larger screen, not just loud but better sound and better video playing capability."
In the past couple of months G'five has launched projector phone, a range of analog TV phones, 2G phone with video chat, the Movie King range which comes loaded with 20 full-length movies besides videos and ringtones and the G20 gaming phone with 1000 pre-loaded 16-bit games.