Fring, a popular cross platform IM and video chat application for smartphones, has added a new four way video chat feature to its native Fring application for iOS devices. With this, iOS or Apple mobile device users will be able to chat with up to three different users in one single window using the Fring app. Basically, this is lot like having a video conference on your phone or iPod with other people.
Earlier, Fring had added Playgrounds feature to the standalone application for Android based devices. The Playgrounds feature, however, is still not available for iOS users but the new four way feature for iOS will compensate for that.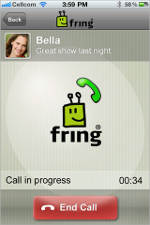 Fring had later even launched a standalone App of Playgrounds some days back. A separate Playgrounds' app for iOS and Symbian devices is also on the cards.
With this new application, Fring users will be able to access the interest based video chat only while the same four users based chat remains the highlight in this application.
The updated iOS application is available on iTunes or can be downloaded from this link.