Last we heard from Fring was when they has announced the launch of the new improved Video chat functionality for Android based devices. And Now Fring is again back with a new version of its application but this time it is for the iOS based devices and especially for the devices running iOS version 5.
With the new application Fring has provided support for the iOS 5 devices and will allow them to connect to other Fring users. Along with the added support, the new application also brings additional functionality for iPhone users and now from within the Fring application they will be able to use the iVideo chat as well as along with other regulars provided by Fring like text chats, video chats etc.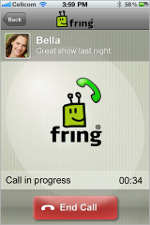 With this new application Fring users will also be able to access the interest based video chat feature called the Playgrounds, which has been added to the Fring application kitty very recently. With the use of Playgrounds Fring users will be able to chat with 3 other people on a similar topic on interest to others as well. Fring although has a separate video chat feature for the iOS based application but will be giving iOS users to access Playgrounds as well.
Last but not the least the new application has got something entirely new for the iPad users as well in the form of a Fring out dialer. With the use of the Fring out dialer, iPad users will be able to use the device to call and connect to cellular networks as well by the use of Fring credits. So basically allowing then to use the iPad for conventional calling as well which was earlier missing in action.
The company has revealed the updated iOS application for devices on the iTunes store and can be upgraded by following the given link.