There used to be smartphones and there used to be tablets but now there is a third category of products that falls right between these two and offer functionality of both.
Samsung Galaxy Note is the perfect example of one such device. The Galaxy Note is slightly bigger than an average smartphone but offers far greater functionality than a smartphone does while not being bulky and non useful as the tablet.
In terms of design, the Galaxy Note looks brilliant in its 9.6 mm thick body which is by far much thinner than most smartphones out there in the market. With a bigger display, the device stays at 178 grams in terms of its weight. It is really commendable on Samsung's part to have presented such a sleek and stylish looking device which is both light weight and slim making usage better and easier.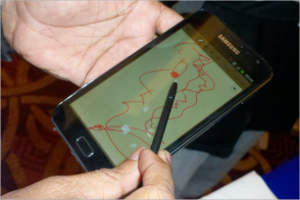 Design of the Galaxy Note seems inspired form the Samsung Galaxy S2, Samsung's flagship Android smartphone and continues with all the design elements that were used in the making of the S2. The Galaxy Note gets a massive 5.3 inch super Amoled HD display featuring a magnificent 800 x 1280 pixel resolution at 285 PPI pixel density making visuals as detailed as possible without any signs of pixilation. The device looks great and feels good too thanks to the curved edges. The slim profile makes this device easy to hold on and operable even with a single hand. The power and display lock key has also been placed on the side of the device for an easy single hand access.
The Galaxy Note along with the upgraded Samsung Touch Wiz user interface is very easy to operate and most of its important functions are already added to the home screens right out of the box. The users can easily tweak the settings as per need.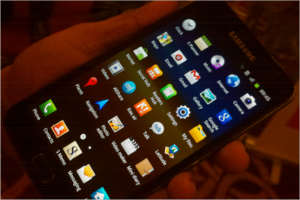 The operating system has been upgraded in relation to the hardware as well for offering maximum performance and usability. The new device gets a 1.4 GHz application processor for a much faster and speedy command processing time and coupled with 1 GB of random application memory or RAM, it surely gives ample space to save some of the important stuff on the device. Along with that the device also boasts 16 GB of internal storage space besides the 32 GB expandable memory card slot for additional memory.
The Galaxy Note boasts of an 8 megapixel rear camera capable of recording 1080 p videos at 30 frames per second and a 2 megapixel resolution front camera for video chat too. The device is surely complete in every aspect with ample connectivity options in the form of WiFi, HSPA+ and even Bluetooth 3.0. Another big inclusion in the device is its 2500 mAh battery pack that is capable of powering the Galaxy Note for up to one whole day of rigorous use but actually battery life will depend on usage pattern.
The Galaxy Note is priced at almost Rs 35,000 which will be a big hindrance for many buyers. But ultimately, the device is sure enough to entice most complex of users with its look, feel and hardware specification which are fast becoming benchmark to be measured before purchase of a device. The Galaxy Note is surely good on all fronts and how well it performs in the real life scenario we will surely get to know but only after doing a full fledged review of the device. So stay tuned.