Apple has announced that the much awaited iOS 5 update will roll out on October 12. Those wondering why it took so long would do well to consider the new apps and improvements.
Apple's iOS 5 is a major game changer for it will make the iOS device sync with the iCloud &#151 Apple's cloud based service, for storing data and performing other functions.
Here's what to expect from iOS 5:
Notifications Center
Apple has worked hard on the new notifications interface after hiring software programmer Peter Hajas who wrote the Notifications app that require jailbreaking the iPhone.
The new Notifications Center is a pull-down gesture based drawer for notifications about emails, text, events, news, weather and pretty much everything in the iOS 5. The notifications have been programmed to appear discretely at the top of the screen while you're using another app. You can also customise the position, type and even its volumes of notifications.
The gray Notification Center does look inspired by Android but Apple's Notification Center does not come with toggle shortcuts.
iMessage
This is one service that every iOS user will get addicted to &#151 free instant messaging. The new iMessage service will be available for iOS 5 devices including the iPhone, iPod Touch and iPad.
Apple has developed iMessage using a proprietary protocol for instant messaging between iOS devices. Hence, it will not accommodate BlackBerry and Android devices.
iMessage comes with iOS 5 and you need to register with your Apple ID and phone number to use it. It has group messaging and image and video sharing via iMessage. The new iMessage will work over WiFi and 3G networks with iPhone, iPad and iPod Touch (WiFi only).
Twitter integration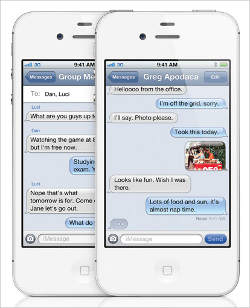 Social network Twitter has been deeply integrated in iOS 5 so that users need to sign in just once. Twitter updates can be posted from other native apps such as Safari, Photos, Camera, Maps or YouTube as well. The autocomplete feature for quickly adding your contacts to a Twitter update is pretty neat as well.
experience will be available across other apps and even with iTunes. This integration is a biggest bet by Apple to add more social features at different functions in the iOS devices.
Camera improvements and Photo editing
Camera icon will appear on the lock screen that will let users quickly turn on the camera and capture an image with a single tap. Besides, users can make use of the pinch-to-zoom for framing the shot and tapping on the screen to focus on that particular point.
To capture an image, users can make the best of Volume up button instead of tapping on the screen. After taking photos, you can quickly edit them on the phone itself like removing the red eye, cropping out the unwanted portions or simply rotate them. Imaging and photo editing has been made easy with the iOS 5 update.
Find my iPhone
Previously available through MobileMe cloud based services, the Find My iPhone App will help locate your lost iPhone using Google Maps on other iOS device. Alternatively, users can sign into iCloud.com for locating the lost or misplaced device. One can also set up passcode lock remotely to bar unauthorised access to the iPhone.
Similarly, users can also perform a remote wipe of data and information onfrom the iPhone. The best part of the Find My iPhone app is that it can override sound and volume controls to play a sound and grab attention. However, the most polite way is to send a message remote that pops-up on the device screen.
Cards
This is a fresh app that will allow you to create e-greetings using images, text and artwork on the phone itself. You can then share those greetings via email, social networks or MMS.
It doesn't end here. You can also send prints of e-greetings via snail mail to your friends for $3 for domestic mail within the US and $5 for international mail. This app will be made available in other countries as well though the details aren't available yet.
Find My Friends
You can search for contacts near you using this Find My Friends feature. For this the contact you're looking for needs to have location sharing enabled on his device, but you can invite people to share their location. This feature can save you many phone calls and immediately connect you to contacts near you.
A simple change in privacy settings allows temporary location sharing as well. The app includes some parental controls and is useful for parents.
Reminders
It is a fancy to-do application with a college rulebook like background but white in colour. By connecting to the iCloud service you can push your reminders to multiple devices.
Newsstand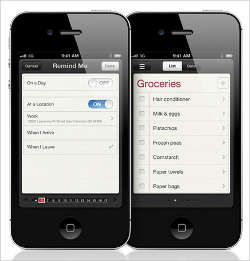 People interested in news can keep their newspaper and magazine subscriptions in one single app with Newsstand. Read newspapers or magazines and also stay updated with breaking news through pushed notifications. The Newsstand app refreshes once a day and fetches updates in the background. It does not support RSS or ATOM feeds.
Siri
Siri is the new intelligent assistant that offers voice control to the newly launched iPhone 4S. You can command Siri to search for terms online or check weather reports. Siri allows users to ask for help to send a text, set up a reminder, make a phone call, set a timer or alarm, and ask for directions. Besides, the speech to text engine also enables Siri to take notes.
Siri requires internet connectivity for certain functions. It is available only on iPhone 4S and is currently in beta, supporting English (US, UK and Australia), French and German languages.
In addition to the above mentioned apps, Apple will also introduce a new iCloud service which is a cloud-based storage that allows storing and backup of data and multimedia on your iOS device. This cloud based integration has been smartly developed so as to allow the user to access the same content anywhere using iCloud login credentials.