The OnePlus 2 is one of the few phones with 4 GB RAM, making that its USP. But it also has a pretty great camera. Now we have another phone, the Lenovo Vibe Shot, with a powerful camera as its USP. Read on to see how these two specialists go head to head.
Design
The design of the OnePlus 2 seems like a significantly evolved version of the OnePlus One. It looks far sleeker, made from better materials (the frame is made from an alloy of aluminium and magnesium), and has super thin bezels too. The front part has no distracting logos while navigation keys dim and disappear behind a sleek pane of black glass. The OnePlus 2 also comes with five different covers namely sandstone black, bamboo, rosewood, black apricot, kevlar. The phone measures 151.8 x 74.9 x 9.8 mm, and weighs 175 grams.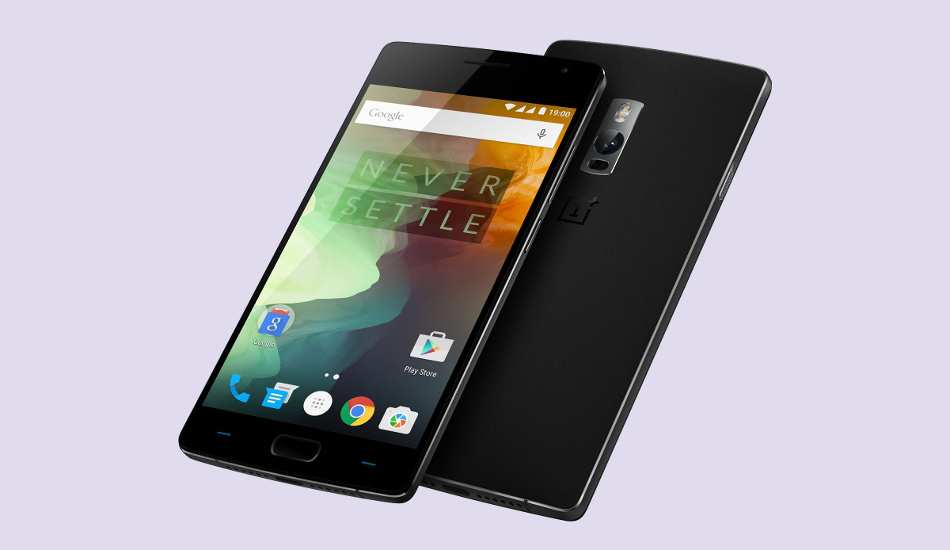 The Lenovo Vibe Shot has a glass and metal construction. While a metal rim covers the phone's four sides, a metal plate covers a big chunk of its back panel, giving it a proper camera like design. The rest of the rear panel has glass which though looks good, makes it a fingerprint magnet. As far as figures are concerned, the Vibe Shot measures 142 x 70 x 7.3 mm and weighs 145 grams, making it smaller and lighter than the OnePlus 2.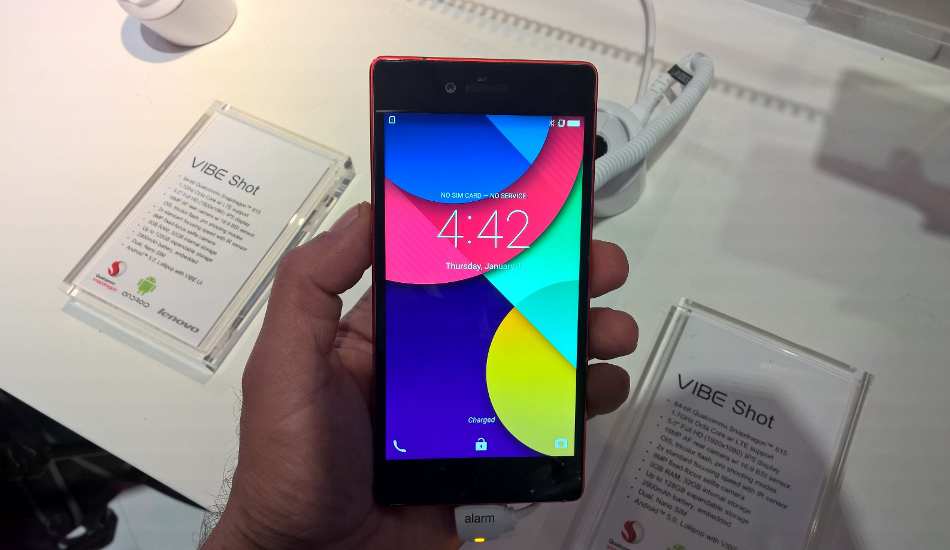 Both these phones look great in their own way but the OnePlus 2 has a slight edge in terms of style and usage.
Display
The Lenovo Vibe Shot is armed with a 5 inch TFT display with resolution of 1920 x 1080 pixels (full HD), thus offering huge pixel density of 403 ppi. Its display is protected by the Corning Gorilla Glass 3.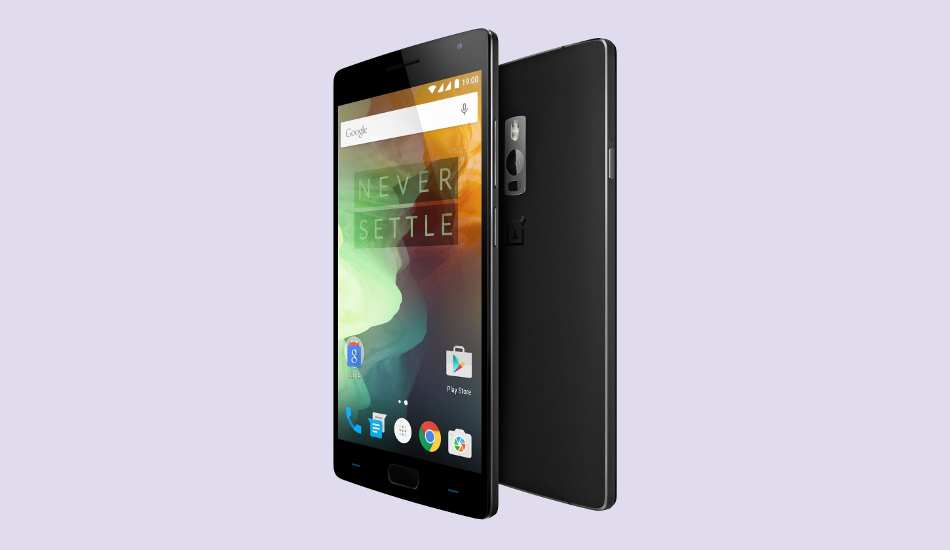 The OnePlus 2 is equipped with a 5.5 inch display with full HD resolution and thus offers 403 ppi pixel density. On top of the display there is Corning Gorilla Glass 4 coating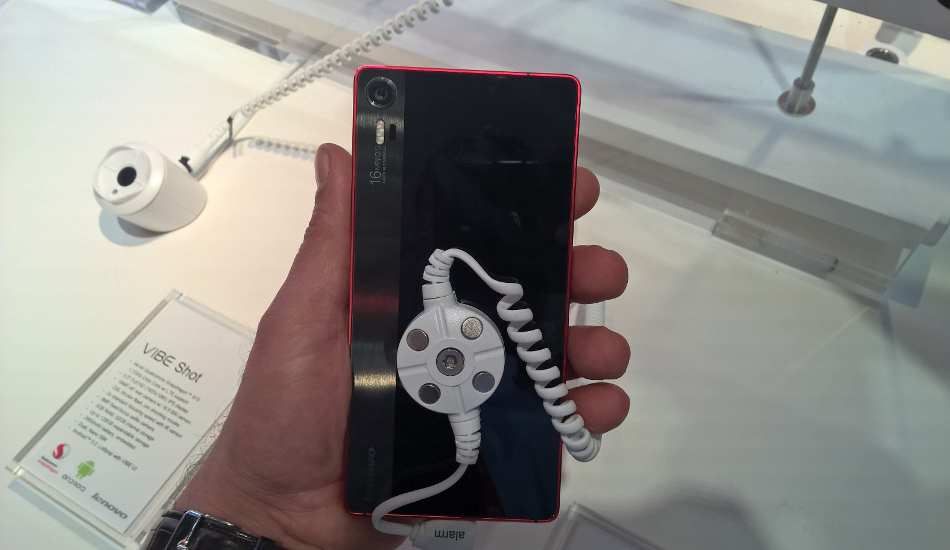 So though OnePlus 2's display has lower pixel density, but it scores some points with its bigger display and much better Gorilla glass.
Processor & Memory
The Lenovo Vibe Shot has the 1.7 GHz octa-core Snapdragon 615 processor which runs the phone with the help of 3 GB RAM. The combination is good enough to run anything thrown at it, be it multitasking or high end games. However, statistically the OnePlus 2 here has an edge as it has the top of the line Snapdragon 810 chipset that has a 64-bit 1.8 GHz octa-core processor. It has also much better 4 GB RAM.
In terms of memory, the Lenovo Vibe Shot beats the OnePlus 2 hands down with 32 GB internal memory and a 128 GB expandable storage. On the other hand, the current OnePlus 2 model has just 64 GB internal memory.
ALSO READ: OnePlus 2 Vs Asus Zenfone 2.
Software
The Lenovo Vibe Shot runs on Android Lollipop operating system, with Vibe UI on top of it. The UI is a very responsive and easy to use OS, similar to regular Android interface. The OnePlus 2 comes with the first version of OnePlus's own UI, Oxygen OS, which is based on Android Lollipop too and offers almost the basic Android UI.
Battery
The OnePlus 2 is armed with a 3300 mAh battery while the Lenovo Vibe Shot has a 2900 mAh battery – both non-removable units. As per Lenovo, the Vibe Shot can provide up to 14 hours of talk time or 360 hours of standby. Unfortunately, OnePlus has not revealed how long the battery lasts, but our guess is that the OnePlus 2 will have almost similar back up as it has a bigger display and an octa core processor.
Camera
The Vibe Shot is touted as Lenovo's best camera phone yet and a camera-smartphone crossover. It has a 16 megapixel rear camera that offers high end features like optical image stabilisation, triple-LED flash, infrared auto-focus, panorama, HDR, manual mode, face detection, and can record full HD videos at 30 frames per second. The front of the Lenovo Vibe Shot has an 8 megapixel selfie taker which too can record full HD videos. Almost all hands-on reviews of Vibe Shot praised it for its cameras.
The OnePlus 2 has a 13 megapixel camera with laser autofocus, 6 lenses, dual-flash, optical image stabilisation, and it can record videos at 4K resolution while you can also record slow motion videos in 720p at 120 frames per second. Further details have not been revealed as of now. For selfies, it has a 5 megapixel shooter.
Spec for spec, the Lenovo Vibe Shot seems to have a better camera.
Connectivity
The OnePlus 2 has two nano SIM slots. The phone offers 4G connectivity, dual-band WiFi, Bluetooth 4.1, GPS with GLONASS, NFC, and DLNA. A point to be noted is that the OnePlus 2 comes with USB Type C, a trendsetting move. USB Type C has several advantages, one is that you can plug it in either way, both sides are the right sides, and you'll have even faster data transfers. However, you cannot use regular chargers with it, hence you have to carry its charger along all the time.
The Lenovo Vibe Shot too has two nano SIM slots, 4G, dual band WiFi, Bluetooth 4.1, GPS with A-GPS and micro USB 2.0 port.
Wrapping up
Both the phones have their own unique USP. The Lenovo Vibe Shot might tempt the photographers in you, but the gamers will lean towards the OnePlus 2. If Lenovo prices this phone well, it could really set the market on fire, as it has excellent specs. As compared to OnePlus 2, the Vibe Shot certainly has superb memory and will most likely come out on top in the camera department. In other areas Vibe Shot is pretty awesome too but the OnePlus 2 looks a bit better in design, display and processor for sure.