The battle of the Octa-core mobile chipset clad smartphones began yesterday when the Gionee Elife S5.5 was announced. The Face-off between Gionee Elife S5.5 and Micromax Canvas Knight A350 was a close encounter where S5.5 got upper hand. Now we take a look at how the Elife S5.5 priced at Rs 22,999 competes against the recently announced Motorola Moto X priced at Rs 23,999.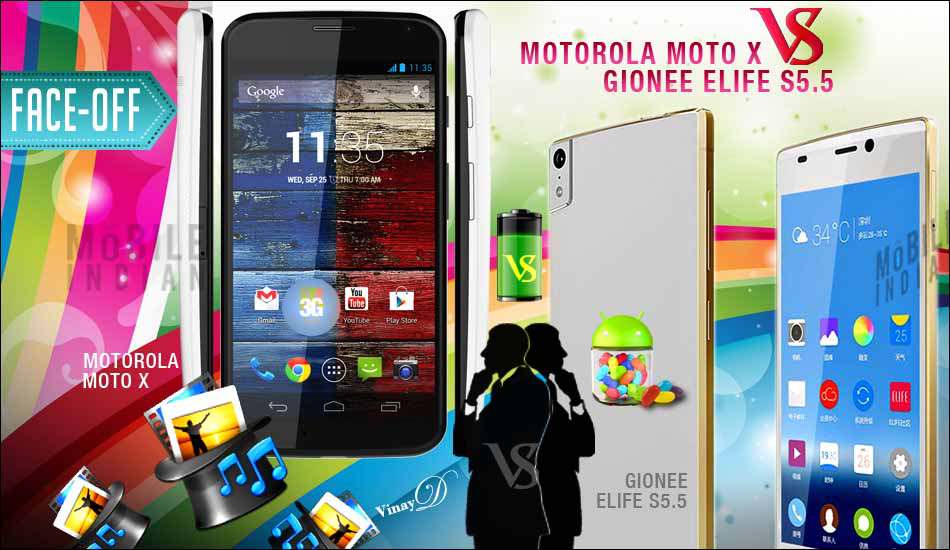 Motorola is enjoying piece of success with the Moto X being available solely through the Flipkart website. Meanwhile, Gionee plans the Elife S5.5 to be available through different retail outlets across the country. While Gionee Elife S5.5 boasts about thin 5.5 mm profile housing Octa-core MediaTek chipset inside, the Motorola Moto X promises distinct set of features. Let us take a closer look at the specifications of both devices.
Design
When it comes to design, Gionee boasts of the new unibody metallic design with a coat of glass layer to give it a premium appeal. The Elife S5.5 has different colour metallic rim running around the corners. Gionee has made this smartphone 5.55 mm thin and boasts of it as the world's slimmest smartphone yet. On the other hand, Motorola Moto X looks great with the different design offering back panel. Moto X is offered in India with wooden finish back covers – Teak and Walnut. These wooden finish bearing back covers provide a unique feel to the palm and gives a decent break from glossy/matte finish offering smartphones.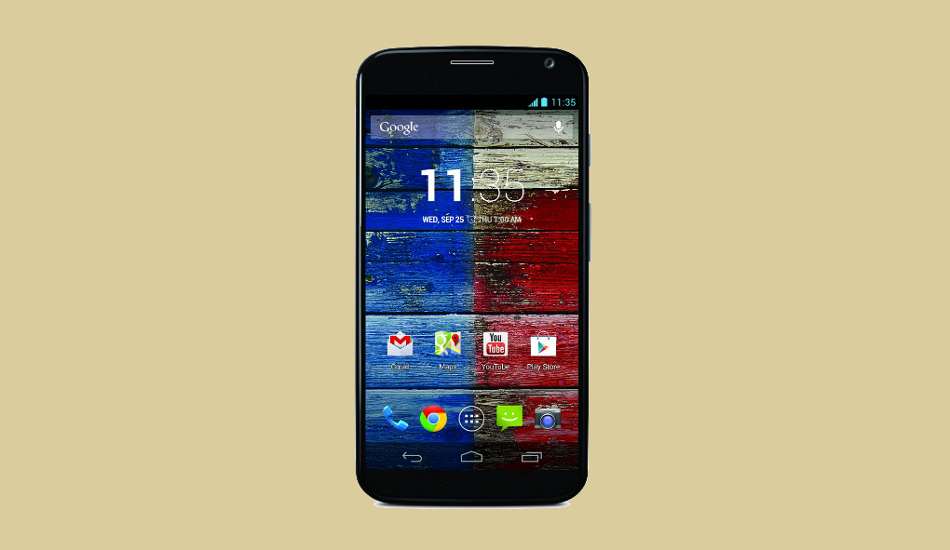 In terms of design, both smartphones are poles apart with different design approach. Capacitive buttons on the Elife S5.5 is one of the obvious difference between both devices. The Elife S5.5 measures mere 5.5 mm thick and indeed is world's slimmest smartphone yet. However, the Moto X is happily 10.4 mm thick but distracts the user with its pattern design clad back panel and smooth flattened front side. In terms of design, the Elife S5.5 does look marginally better at the actual first glance but overall both devices win since they appeal to two different set of design loving folks.
Hardware
Gionee has housed an Octa-core 1.7 Ghz MediaTek MT6592T mobile chipset paired with quad-core Mali-450MP4 GPU graphics. Gionee has coupled the mobile chipset with 2 GB DDR3 RAM to deliver butter smooth performance to the Android 4.2 Jelly Bean update running Amigo User Interface. During our first interaction with the Elife S5.5 we found the user experience with the UI was bit sluggish. It could be because most were not retail units.
Motorola has powered the Moto X with the dual-core 1.7 Ghz Qualcomm Snapdragon S4 Pro mobile chipset married with the Adreno 320 GPU graphics. Motorola has packed 2 GB DDR2 RAM to power the Android 4.4 KitKat update with select optimizations.
Both devices cross their swords on the display front. The Elife S5.5 offers a 5-inch Full HD Super AMOLED display with 1920×1080 pixel resolution. This display has been constructed using the Corning Gorilla Glass' Low Temperature Poly Silicon LCD display made using One-Glass Solution technology.
Meanwhile, the Moto X features 4.7-inch AMOLED display with 1280×720 pixel resolution. The screen has been built using the Corning Gorilla Glass technology to provide protection against normal wear-tear. Of course, in terms of pixel density, the Elife S5.5 wins with 441 pixels per inch compared to the 312 pixels per inch offered in Moto X.


Gionee Elife S5.5 supports high-speed 3G network enabled micro-SIM while the Moto X requires a nano-SIM supporting 3G networks.
The Elife S5.5 offers Wi-Fi support along with Wi-Fi Direct option to enable faster transfer between devices. Motorola has integrated dual-band Wi-Fi chip along with support for latest wireless standard. Sheerly on the grounds of Wi-Fi speed, Moto X would have upper hand over Elife S5.5 device. The Moto X also integrates the Miracast Wireless Display technology certification but we doubt that any consumers would be really interested in even trying it out.
Motorola has integrated the GPS with A-GPS and GLONASS support for better as well as faster location locks. Compared to that, the Elife S5.5 offers only GPS with A-GPS support. The maps and navigation performance of both devices might differ solely based on the GPS solutions integrated. Also, Moto X offers Near Field Communication support while Elife S5.5 does not.
Gionee's Elife S5.5 may boast of the octa-core mobile processor but there is no real-world optimization or enough apps to make the best of it. Motorola Moto X not only promises decent performance but also brings the Android 4.4 KitKat for those eager to try it out.
###PAGE###
Storage
Motorola is selling only 16 GB on-board storage offering versions in India. Even Gionee Elife S5.5 will be sold in 16 GB on-board storage version for India. Neither of the devices offer memory card slot. Interesting bit is that Moto X offers USB Host feature while the Elife S5.5 offers USB On-The-Go support.
Cameras
Gionee has placed a 13 megapixel camera at one corner of the back panel with LED Flash below it. The camera app features normal, professional and fun mode to use variety of predefined settings. The camera also supports HDR mode along with sports mode to capture action shots. The ISO sensitivity of the camera can be bumped to 1600. With the amount of features integrated in the Camera app, the Elife S5.5's camera might just surprise us but we shall hold our horses before jumping into conclusions. The Elife S5.5 offers a 5 megapixel wide-angle camera in the front for video calls.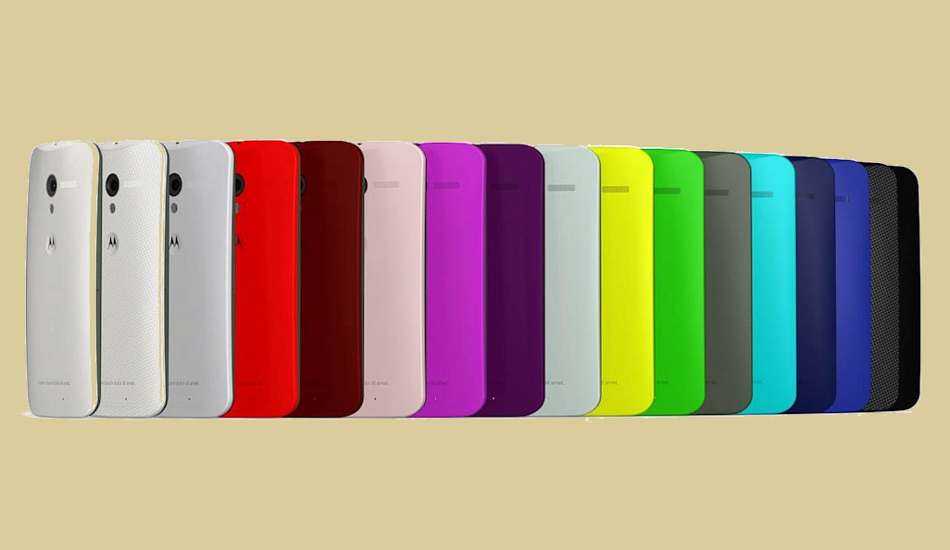 Motorola has integrated the shake to open gesture for quickly launching the camera app from the locked state. Motorla has packed 10 megapixel camera with autofocus and LED Flash. The camera offers touch focus, face detection, panorama and HDR capture features. Users can record full HD video at 30 frames per second with stereo sound recording support for better audio quality. HDR can be used even with video recording. In the front lies a modest 2 megapixel camera for video calling.
Battery
Gionee Elife S5.5 packs a non-removable 2300 mAh battery. We can expect the run time to be higher by couple of minutes since the device houses slightly under-clocked mobile chipset. Motorola Moto X bundles a 2200 mah battery promising decent talk time.
Wrapping Up
Motorola has made several software level optimizations such as notifications and gestures to optimize the Moto X. Meanwhile, Gionee tries to carve a niche with Amigo UI ambitiously. On the grounds of specifications the Gionee Elife S5.5 may boast of the more hardware muscle over Moto X. However, the real-world performance of both devices would be absolutely different. The Elife S5.5 obviously takes away the cake with slim profile over the Moto X. However, there is no clarity on Android 4.4 KitKat update for the handset.


On the other hand the Moto X brags about getting the Android 4.4 KitKat update and works just fine with the native optimizations. Also the wooden back panel options do make it appear slightly distinct amongst the usual run of the mill handsets. Final word about which handset trumps the other can be figured after a detailed test of both Elife S5.5 and Moto X.