Indians seem to think that bigger is better, certainly when it comes to the screen size of their mobile phones. This was revealed by a survey of The Mobile Indian (TMI) in which the online preferences of over one million people who visited the website in August were analysed.
In January 2012, data from The Mobile Indian showed that the average screen size among the 25 most searched phones was 2.9 inches. In the latest monthly survey, however, that size has risen substantially to 3.6 inches among the Top 25 handsets.
Commenting on the phenomenon, a spokesperson for The Mobile Indian, said, "Indian telecom service providers reduced 3G tariffs by up to 60 per cent in May 2012 to push data consumption. Now, with the availability of 4-inch screen phones at an affordable price, it looks like consumers want to experience faster data speeds on larger mobile screens."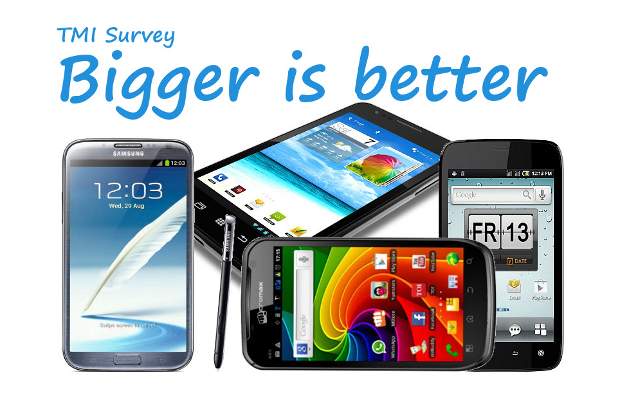 In this month's edition of the Hotlist, Nokia is back on top with its Asha 305 followed close behind with its stable mate, Asha 311. This shows that Windows has not been able to turn the fortunes of Nokia in India so far but the affordable range of Java-based Asha series of phones has got consumers excited.
Incidentally, since December last year when Nokia had made its Asha and Lumia series phones available, at least one handset of the Asha series has made it to each TMI survey list till date. On the other hand, Windows operating system-based Nokia Lumia series of smartphones featured in just five lists.
LG phones rarely appear in the hotlist but this time its Optimus L3 E405 performed strongly to land at No 3. Unusually, the next two ranks went to two other brands, to HTC Desire VC and Sony Neo L respectively. The leader in August's Handset Hotlist, Samsung Galaxy S III, lost nine positions and became the 10th most searched phone from a list of around 2000 handsets listed on the website.
Interestingly, Android-based handsets seem to be top of mind among Indian consumers. This month's Handset Hotlist saw 12 new entrants of which nine were Android-based handsets and three were feature phones.
Over the months, The Handset Hotlist has been dominated first by Nokia and more recently by Samsung to the detriment of other brands in the business. However, in September 2012, handsets from eight brands have made it: nine of the top 25 handsets are from Samsung, four each from Micromax and Sony Mobiles, three from Nokia, two from LG Mobiles, and one each from Spice Mobiles, HTC and Karbonn. Remarkable too is the fact that three Indian brands have got into this prestigious list.
The spokesperson further added, "Android based dual SIM smartphones are also gaining popularity. Ten of the 13 dual SIM phones that made it to the list month are Android based."
Top 25 Handset Hotlist for September 2012

Rank Aug
Last July
Change
Model
Popularity Index
Price (in Rs.)
OS
Screen Size
Dual SIM
1
5
4
Nokia Asha 305
100.0
4670
Java
3
Yes
2
NA
NEW
Nokia Asha 311
94.7
6550
Java
3
No
3
NA
NEW
LG Optimus L3 E405
64.6
8300
Android
3.2
Yes
4
NA
NEW
HTC Desire VC
60.8
20950
Android
4
Yes
5
10
5
Sony Xperia Neo L
53.3
18100
Android
4
No
6
13
7
Samsung Galaxy Ace Duos
47.6
12000
Android
3.5
Yes
7
6
-1
Samsung Galaxy Y Duos
45.3
8490
Android
3.2
Yes
8
12
4
Samsung Galaxy Ace Plus
39.5
15500
Android
3.65
Yes
9
21
12
Samsung Galaxy S Advance
38.1
19500
Android
4
No
10
1
-9
Samsung Galaxy S III
38.0
38000
Android
4.6
No
11
NA
NEW
Nokia Asha 306
37.9
NA
Java
3
No
12
11
-1
Samsung Star 3 Duos WiFi
36.0
5390
Java
3
Yes
13
15
2
Samsung Wave Y S5380
32.6
6930
Bada
3.2
No
14
9
-5
Samsung Galaxy Pocket
32.0
6700
Android
2.8
No
15
19
4
Samsung Galaxy Ace S5830
31.3
11000
Android
3.5
No
16
NA
NEW
Karbonn A9
30.0
9490
Android
3.8
Yes
17
20
3
LG Optimus L5
29.5
12500
Android
4
No
18
NA
NEW
Micromax A44 Superfone
29.5
4500
Android
3.2
Yes
19
NA
NEW
Sony Xperia P
29.4
24700
Android
4
No
20
NA
NEW
Sony Xperia Ion
28.9
36000
Android
4.5
No
21
23
2
Sony Xperia U
27.9
16100
Android
3.5
No
22
NA
NEW
Micromax Superfone A100 Canvas
26.9
10000
Android
5
Yes
23
NA
NEW
Spice Stellar Craze Mi355
26.7
6599
Android
3.5
Yes
24
NA
NEW
Micromax X454
26.1
3000
Java
3.2
Yes
25
NA
NEW
Micromax Superfone A90
25.3
12990
Android
4.3
Yes