Starting today, the newest version of Google Chromecast and Chromecast Audio will be available in India. Both Chromecast Audio and Google Chromecast are priced at Rs 3,399 and will be available from several marketplaces including Flipkart, Snapdeal, Paytm and retailers like Reliance and Croma.
Chromecast Audio is a new device that plugs into speakers to stream radio, podcasts and music over WiFi. The small device plugs into existing speakers to stream music, radio and podcasts over WiFi, similar to Chromecast. It works with a number of apps including Saavn and Wynk Music. The multi-room feature makes it possible to connect multiple speakers throughout a living space.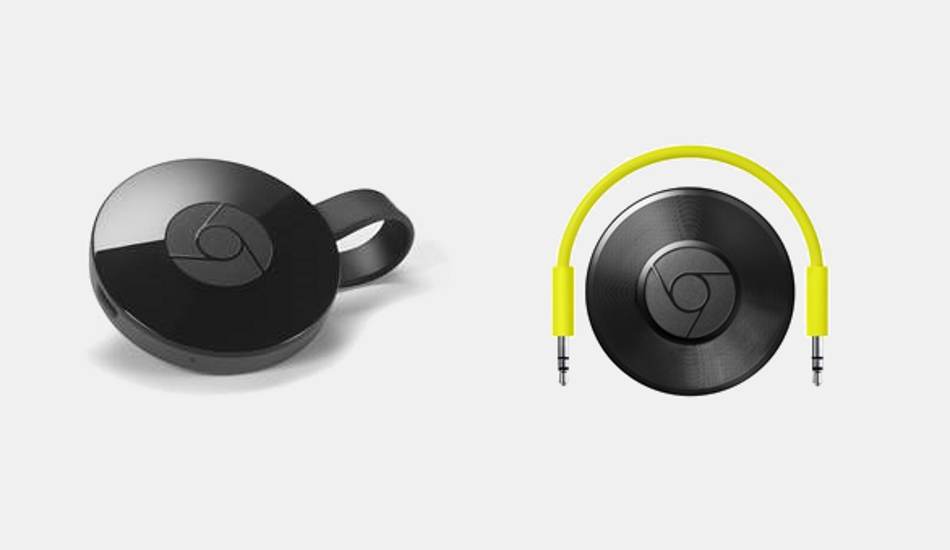 Chromecast turns any TV into a smart TV for a fraction of the cost. The new Chromecast has an updated design, making it easier to fit into TVs with crowded ports. It supports the latest WiFi standards and as per Google it can adapt to changing WiFi conditions in most homes, ensuring higher quality video with less buffering. In addition to movies, TV shows and music are available through apps including Netflix, Hooq, Eros Now and YouTube. Chromecast also offers a range of popular single and multi-player games including Angry Birds Go and Just Dance Now.
"The new Chromecast brings your favorite entertainment from your mobile devices to the big screen with ease. With improved connectivity, a new design and an updated app, friends and family can share the fun of streaming movies, music, games and shows. Chromecast Audio, our newest addition, lets you enjoy your favorite music, podcasts and radio from anywhere. The future of entertainment is streaming and Chromecast brings it all to you in a simple, affordable device." said Mickey Kim, Head of APAC Chromecast Partnerships.
The Chromecast app has been updated to make it easier to search for content -the app provides personalized suggestions as well as functionality for specific searches.