Mobile subscription all over the world has crossed the 5 billion mark. India alone contributes more than 600 million subscribers to this mammoth total.
Combine this number with the fact that on average, each person changes his cell phone every six months. With this in mind it is not difficult to ascertain the large number of mobiles being disposed of all over the world.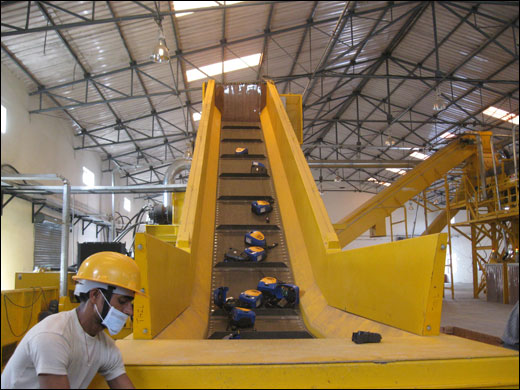 Huge BurdenOld mobile phones form a major part of the total e waste not only in India but across the world. And although the handset industry's contribution to e waste still isn't very alarming, looking a few years ahead, the case might be totally different.
A Nokia spokesperson agreed. "By virtue of its weight and size, the contribution of mobile waste to overall e waste is not very high. However, this does not have any implication on the responsibility that this industry has in creating awareness on recycling of e waste," he said.
The spokesperson added, "The total number of mobile phones sold in the country could be an indicator of the potential size of the market. According to Gartner, India will sell 138.6 million mobile phones up 18.5 per cent over the previous year."
While e waste inventory based on obsolescence rate in India for the year 2005 was estimated to be nearly 1.5 lakh tonnes, the number is expected to exceed 8 lakh tonnes by 2012. Mobile phones constitute a major component of this waste.
A report released by the UN Environment Programme (UNEP) this year in February stated that total e waste generated in India is about 4.3 lakh tonnes, of which mobile phones contribute about 1,700 tonnes.
The unfortunate part is that while developed countries have a proper system for recycling these disposed devices, such a system is lacking in India. It's not just about a system, even awareness on recycling e waste is lacking in the second largest mobile market in the world.
Of approximately 3.8 lakh metric tonnes of e waste generated in 2007-2008, about 1.5 metric tonnes were available for recycling, as per a study sponsored by the Department of Scientific and Industrial Research and conducted by the Electronics Industries Association of India. The study also stated that the share of mobile phones and televisions towards e waste is considerable.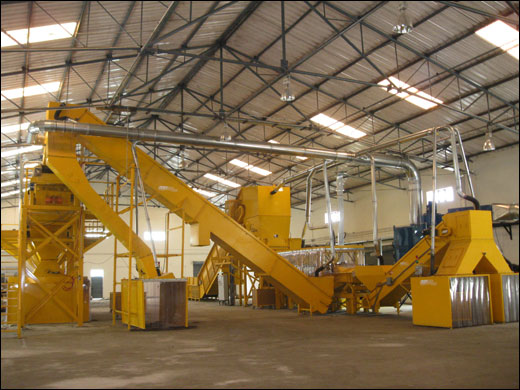 Even now, most people have at least phones lying unused at their homes, piling in their almirah or at the most given away to the local scrap man. The reason being they simply didn't know what to do with them.
In addition to this, approximately 50,000 tonnes of e waste is dumped into India every year through imports, according to a source. The main reason for this is that the cost of recycling products in India is ten times less than it is in the USA.
Recycling RequiredEvery journey begins with a small step, so if we need to tackle the problem of e waste, the start may as well be made by proper disposal of mobile waste (m waste).
Cellphones contain many different substances that are toxic and potentially hazardous to the environment, as well as to human health. These include ferrous and non-ferrous metals, lead, magnesium, copper, mercury, plastics, glass, liquid crystals, barium, concrete, ceramics, rubber, arsenic etc.
Hence, it becomes crucial that m waste is disposed of in a proper manner. Also, after recycling, the materials obtained can be used to make useful items such as utensils, benches etc. In fact, metals extracted from e waste are resold in the commodity market by recycling agencies not only in India but worldwide.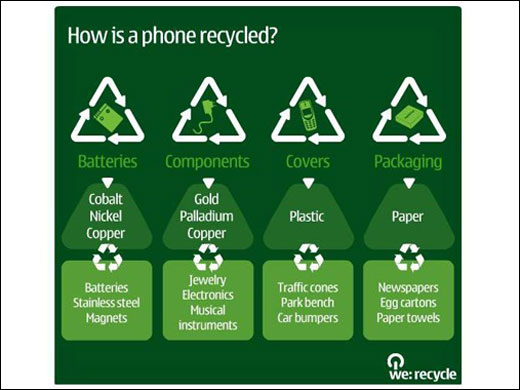 Status CheckIn India, the handling of e waste, from collecting to dismantling to recycling e waste, is mainly taken care of by the informal sector.
At some places in Delhi, printed circuit boards (PCBs) of mobile phones are sold to scrap dealers for as low as Rs 6 per piece. And it's not just PCBs, almost all parts of phones are up for sale. Batteries and fiber bodies are sold by the dozen.These are then burnt, usually in slum areas, in open air. What remains are a few grams of copper, aluminum and other metals. This process does irreparable damage to the environment and to the health of people inhaling the toxic fumes in the air.
Many organisations in India are trying to put in order the way recycling is done in the country. These organisations collect e waste through their collection centres and transport them to recycling plants. Once the scrap reaches a plant, metallic and non metallic components are separated.
Telecom giants such as Nokia, LG and Tata Teleservices (TTSL) have now started generating awareness about the issue. Nokia has started a 'take back' scheme in various cities wherein mobile phone users can dispose their used handsets and accessories, regardless of the brand, at recycling bins in Nokia Priority Dealers and Nokia Care Centers.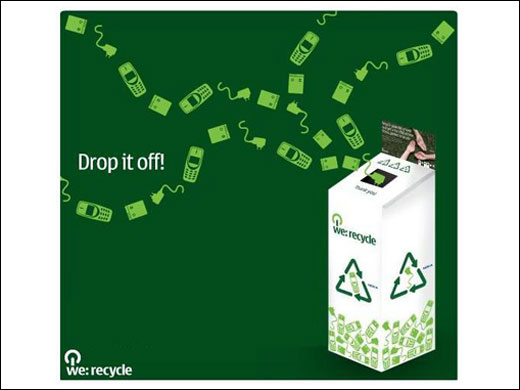 Nokia passes on m waste to companies that reclaim materials from the phones and accessories. These companies are assessed on a regular basis to make sure they're doing things properly and that anything handed over to them is recycled responsibly, said the Nokia spokesperson.
Nokia had collected close to 16 tonnes of e waste (mobile phones and accessories) till April this year as part of their 'take back' campaign started in January 2009. Nokia's Planet Ke Rakhwale community already has a member base of 20,000 people.
On the other hand, recycling companies such as Attero Recycling work with various companies including telecom giants such as LG and TTSL. They also try to touch base with the informal sector and try and minimise damage to the environment and to human health by open air burning.
Regulation regarding e wasteIn India, there are no specific environmental laws or guidelines for e waste. None of the existing environmental laws have any direct reference to electronic waste or refer to the way it is handled as being hazardous. However, as some components of electronic waste fall under the 'hazardous' and 'non-hazardous' waste categories, they are covered under the purview of 'The Hazardous Waste Management Rules, 2003'.
This regulation defines hazardous waste as "any waste which by reason of any of its physical, chemical, reactive, toxic, flammable, explosive or corrosive characteristics causes danger or is likely to cause danger to health or environment, whether alone or when on contact with other wastes or substances."
As per the guidelines for environmentally sound management of e waste, Maharashtra ranks first followed by Tamil Nadu, Andhra Pradesh, Uttar Pradesh, West Bengal, Delhi, Karnataka, Gujarat, Madhya Pradesh and Punjab in the list of e waste generating states in India.
In these guidelines, the Ministry of Environments and Forests' central Pollution Control Board has proposed the extended producer responsibility (EPR) as an environment protection strategy.
This makes the producer responsible for the entire life cycle of the product, especially for take back, recycle and final disposal. Thus, the producers' responsibility is extended to the post consumer stage of the product life cycle. This needs to be included in the legislative framework making EPR a mandatory activity associated with the production of electronic and electrical equipment over a period of time.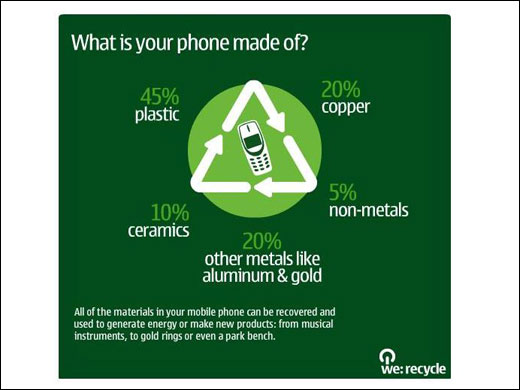 "The EPR law is already present is Europe, certain parts of US and Japan. In India, it is already in draft stage and the law should be coming out soon. It will give boost to proper disposal of e waste in India. And companies like us will get more e waste," said the Nokia spokesperson.
Welcoming the move by the government, the Nokia spokesperson added, "Nokia welcomes the government's initiative for management of the e waste in the country. The draft notification is a significant move towards better management of e waste in the country. The regulation would help in development of the recycling infrastructure and would provide a framework for action by all stakeholders."
However, the fact remains that policies and regulations will prove ineffective until consumers take action and start contributing.
Even small steps such as not mixing old phones with household garbage and dropping them instead at recycling centres set up by NGOs and manufacturers will make a huge difference.