Even through prices of mobile phones have gone down drastically, it would be hard to imagine buying a mobile phone as cheap as Rs 374. No we are not talking about cheap Chinese imported mobile phones but the Reliance Classic 7610 feature phone that is now available for Rs 374 across the country from Deals and You, an online retailer.
The Reliance Classic 7610 is a feature phone with a 1.5 inch colour LCD display and offers polyphonic ringtones as well. For entertainment, this mobile phone offers Mono FM playback as well. The phone comes with a dual band GSM radio capable of handling most GSM enabled SIM available in the market as of now.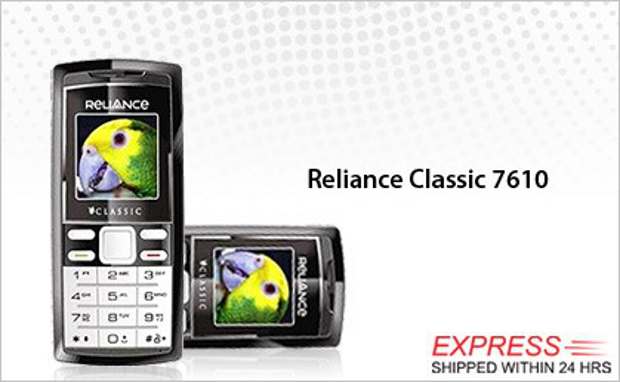 The Classic 7610 has a basic set of features which make it easy to use and with its 1000 mAh battery pack, the phone can offer up to 280 hours worth of standby time or 4.5 hours worth of talk time between charges.
The phone has been made available at the website for a price of Rs 599 that includes doorstep shipping as well. But to get the phone at an even discounted price of Rs 374, users need to mention a coupon code.
You can visit the product page and after that while checking out use the coupon code "CCDNY" to be eligible for an additional discount of Rs 225 on the price of Rs 599. After adding the coupon, users will be updated to a price of Rs 374 which they will have to pay to get this phone.
This offer is a very limited offer and only valid for today.