Some days back, we reported about BlackBerry's plan to launch its first Android smartphone called Venice. Now a picture of the so called BlackBerry Venice Android smartphone has been leaked, which sheds some lights on the purported smartphone.
Evan Blass, who runs the popular Twitter account @evleaks, claimed that the BlackBerry Venice is confirmed to be launched in November this year in USA.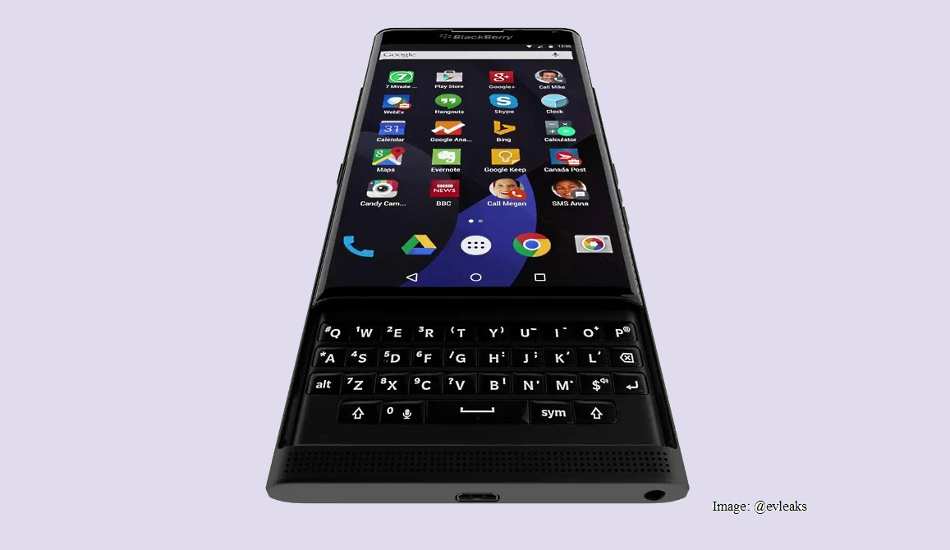 He also shared several pictures of the so called BlackBerry Venice. As per the picture, the BlackBerry Venice has a physical keypad with a slider touchscreen. Just below the keyboard, there as a big speaker grill covering the bottom of the front panel.
As you can see, on the screen, there were several applications including that of Google Drive, Chrome, Google camera, Google Maps, Google calender etc. It seems to have a single SIM slot as there was only one bar above in the notification panel.
Earlier rumours claimed that the BlackBerry Venice will have a 5.4 inch display with Quad HD resolution which could be true as the leaked image shows a tall display. Besides, BlackBerry Venice expected to come with a 1.8GHz hexa-core 64-bit Snapdragon 808 chipset, 3GB RAM, an 18-megapixel rear camera, and a 5-megapixel front-facing camera.
BlackBerry, which once used to have a dominating position in the smartphone industry, has been struggling to sell its devices for last few years. The Canadian company has tried several design elements and has even ditched its iconic QWERTY keypad from some of its recent launches. Its recent BlackBerry 10 OS also allows installing Google apps on BlackBerry devices. Analysts have long been expecting the company to embrace Android OS to revive its fortunes. We are not sure whether it will change BlackBerry's fortunes or not but an Android device from BlackBerry's stable is certainly very interesting on which we will keep you posted as and when some developments come to light.